---
FAST FACTS HAWAII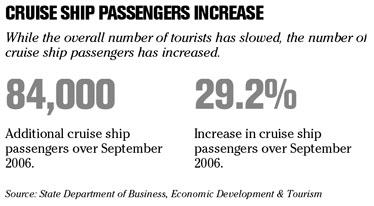 ---
NATION
ETrade sales talk sends stock up
NEW YORK »
ETrade Financial Corp.
, the second worst-performing stock in the
Standard & Poor's
500 Index this year, rose 25 percent on a report the online brokerage is in talks to sell itself or part of its business.
ETrade is speaking to competing firms about a sale of the company or its brokerage operations, the CNBC cable news channel reported yesterday, citing people familiar with the discussions whom it didn't identify.

Earlier this year, ETrade interrupted merger talks with competitors as writedowns at its banking unit led to the first quarterly net loss since 2002. ETrade shares lost half their value Nov. 12 after Citigroup Inc. analyst Prashant Bhatia said the company's forecast for more writedowns may spur customer defections and could lead to bankruptcy.
WORLD
Greenspan has no regrets
OSLO, Norway » Former Federal Reserve Chairman Alan Greenspan says the deepening slump in the U.S. housing market isn't a result of his policies.
"I have no particular regrets," Greenspan said yesterday in Oslo. "The housing bubble is not a reflection of what we did, as it is a global phenomenon."
Declines in home sales and prices in many U.S. markets signal the housing slump that began in 2006 may extend into its third year, matching the slowdown 18 years ago that ended in the 1991 recession.
The collapse of the U.S. subprime market "was a shocker because no one expected it," Greenspan said. "It was the weakest link in the international financial sector."
Barry Diller expands in China
BEIJING » Media mogul Barry Diller said yesterday his Internet conglomerate,
IAC/InterActiveCorp
, will invest $100 million to expand in China by creating services designed for local users.
IAC also will launch its Ask.com search engine in China within two years, Diller told reporters in a meeting over breakfast.
IAC is looking for opportunities to develop or buy businesses geared to Chinese users, Diller said. He said it wants to avoid the fate of Internet outfits that have struggled in China with offerings developed for the United States and other foreign markets.
Subprime woes wash up in Japan
TOKYO » Japanese financial institutions lost as much as $2.1 billion from investments related to risky U.S. housing loans in the half of fiscal 2007, according to a government estimate published by Japanese newspapers yesterday.
The 230 billion-yen losses accounted for about 17 percent of a combined 1.3 trillion yen ($11.9 billion) in securitized holdings that included the so-called subprime loans, according to the Nikkei, one of the newspapers reporting the Financial Services Agency estimate.
The FSA said in its Thursday report that the U.S. subprime problems have so far had a limited impact on Japanese financial institutions. But the losses could expand because of the resulting market turmoil, which has been ongoing since last month, the Nikkei said.
---
BUSINESS PULSE