| | |
| --- | --- |
| | Island Mele |
---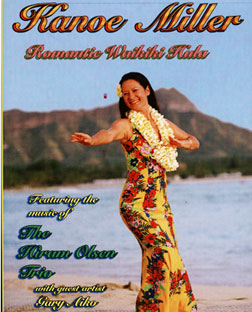 "Romantic Waikiki Hula"
Kanoe Miller
(Tropical Baby Productions)
Hawaiian singers and musicians aren't the only local entertainers who have embraced DVDs as a step beyond the standard audio-only CD as a platform for presenting their art. Famed hula dancer Kanoe Miller makes her debut as a recording artist via DVD with this aptly titled collection of hapa-haole hulas. Miller has been the resident dancer at the Halekulani Hotel's House Without a Key for more than 20 years, and with the Hiram Olsen Trio behind her she shares the beauty of hula and provides cultural information, too. In several ways this DVD is better than being there.
The basic program shows Miller dancing popular hulas such as "Waikiki," "Lovely Hula Hands" and "Sweet Leilani." Olsen and his musicians are seen in some segments; Gary Aiko guests on "Sweet Leilani."
Miller and her producer-director (and husband) John C. Miller make this more than a basic "performance video" by shooting most of the hulas in places that relate to Kanoe Miller and the lyrics in some way -- "Kaimana Hila" performed in Kapiolani Park with Diamond Head in the background, for example.
Introductory segments show Miller in everyday attire doing things like shopping for leis in Chinatown or making a ti leaf skirt. Vintage photos and film clips add historical perspective.
A "Dancer's Commentary" option adds Miller's comments about her attire and her feelings about each song during the performances. Other options play hula segments without introduction -- and with or without Miller's commentary.
A separate set of interviews available though the main menu provides even more cultural background. A beautiful liner notes booklet completes this perfect introduction to hapa-haole music and hula.


John Berger
, who has covered the local entertainment scene since 1972, writes reviews of recordings produced by Hawaii artists. See the Star-Bulletin's Today section on Fridays for the latest reviews. Reach John Berger at
jberger@starbulletin.com
.