Family faces some tight squeezes
Thin finances leave the family of seven, living in a shelter, hopeful for donations
"Chantelle" and her husband can't find a place to live -- not with seven kids and some back rent they still owe.
They spent a month living with a sister-in-law who has five kids and a husband who wasn't too happy about the situation.
Now they are crammed into two large bedrooms at the Onemalu Transitional Shelter. Without it, they'd be back on the street.
Chantelle -- not her real name -- who turns 41 this week, has her hands full keeping her family fed and sheltered. Stretching their paychecks any further to cover Christmas gifts for the kids is impossible, she said.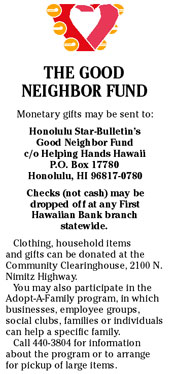 But Chantelle applied for the Adopt-a-Family program, run by Helping Hands Hawaii's Community Clearinghouse during the holidays, and things are looking up.
The agency is collecting funds and donated goods to meet the requests of needy families in time for Christmas with the help of the Star- Bulletin's Good Neighbor Fund.
The family includes two boys and five girls, who could use clothes, shoes, pillows, blankets, a futon and kitchen supplies.
"I don't have enough time for myself. I think I am crazy already, having seven kids! ... The only time I have for myself is when I go to work; but I enjoy going to work," said Chantelle, who works the graveyard shift at the airport as a baggage handler.
Catching a few naps in between, Chantelle manages to take care of the baby and act as the family chauffeur. She carts the kids off to school and husband to work, then, before she knows it, has to pick them all up, she added.
Her husband has to watch the kids at night while she works, so they have little time together. Sometimes her mother helps, but "I don't like to use baby sitters," Chantelle said.
"I can't let them just run around alone outside, but I can't watch them 24 hours a day," she said. "When I go somewhere, I take them all with me."
She and her husband have little choice but to keep up the hectic pace of work and caring for the kids. Within a few days of being paid, she often has less than $50 in her pocket.
"The money seems to be going somewhere -- like food. I have seven kids who are always eating, and they're not small. They're not skinny, little things," said Chantelle, whose children range from 18 through 17 months old.
"They don't ask for much, but I can't give them what they want. ... It's hard to tell them no. They say, 'You always say next time but we never get it,'" she said.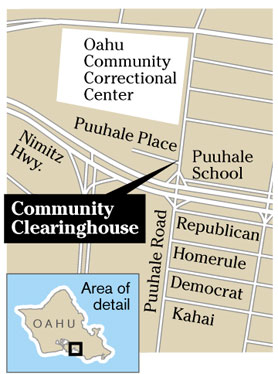 "They ask for toys, but those would be trashed a month later. So I'll give them clothes, reasonable stuff. I can't give them the brand-name stuff," Chantelle said.
Living at the Onemalu shelter near Barbers Point the past several months and taking classes in budgeting have been a big help in preparing the couple to rent their own place one day. Most public housing has been off limits to the family because it exceeds the number of people allowed per bedroom. With nine in their family, that's one too many for most four-bedroom places, she said.
"The kids don't like not having our own house, especially the older ones, who want their own rooms and more privacy. I've learned to go with it; I've been doing it for so long.
"I just look at it like, I have to deal with this right now. I try not to let it bother me, because if I lose my mind, they won't know what to do without me. They'll get scared," said Chantelle.