---
FAST FACTS HAWAII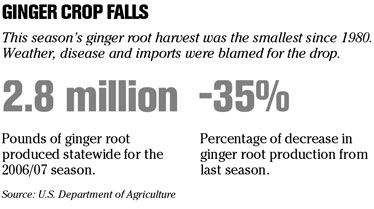 ---
BRIEF CASE
STILL CLIMBING
For the third consecutive year, Boeing Co. has won orders for more than 1,000 jetliners and has already eclipsed its own sales record set last year. Boeing announced yesterday that is has won 1,057 gross orders so far in 2007.
TOO HIGH
Chinese airports will cut prices in shops to boost sales, said Liu Shaocheng, director of the General Administration of Civil Aviation's policy research department. Retail and other non-aviation sales have grown at about a quarter the pace of traffic.
NEW HIRES / PROMOTIONS
» East-West Center has named
Derek Ferrar
as media relations specialist. He will author articles for the center's news wire and website, handle news releases and media inquiries, connecting journalists with expert sources on Asia Pacific issues and facilitating the dissemination of East-West Center programs, activities and resources. He previously served as a public information specialist for the Office of Hawaiian Affairs, editor in chief of Hawaiian Airlines' Hana Hou! magazine and as a founding editor of the Honolulu Weekly.
» Central Pacific Bank has announced the following new promotions: Ryan M. Harada has been promoted to executive vice president and manager of the commercial real estate loan division from senior vice president and manager. He previously served at GE Real Estate for nine years and First Hawaiian Bank for seven years. He joined the bank in 2003 and has 20 years experience in commercial real estate. Karen K. Street has been promoted to executive vice president and director of human resources from senior vice president and director of human resources. She previously served as vice president of organizational development for First Insurance Co. of Hawaii, a senior partner of The Partnership Guild and executive vice president of administration at Bank of America. She has more than 25 years experience in human resources.
» Resources Global Professionals has announced the following new hires: Andrea Winter has been hired as director of client service. She will be responsible for client relations and leading local development of information and risk management. She previously served as a manager with PricewaterhouseCoopers' systems and process assurance practice in Bermuda and as a senior systems auditor for the Hawaii Medical Service Association. Amanda Ross has been hired as manager of recruiting. She will be responsible for sourcing and interviewing potential candidates and quality assurance for current associates. She currently serves as public relations officer for the American Society of Women Accountants Honolulu chapter and has previously served at the internal audit department of Exelon Corp.
BOARD OF DIRECTORS
» Skal International Hawaii has elected its new officers and board members for 2007-2008:
Phil Sammer,
president;
Susan Weander
, vice president;
Valerie David
, secretary; and
Mike Miller
, treasurer. New board members are
Tom Anusewicz, Daniel Bayne, Jim Heather, Earl Loo, Deems Narimatsu, Greg Nelson
and
T.J. Oesterling
.
» The Lanakila Rehabilitation Center & Foundation Boards have announced its officers and new members for 2008: Board officers and members are Masaichi Tasaka, chair; Lynn Zane, vice chair; Ko Miyataki, secretary; Ken Hayashida, treasurer; and Debbie Bacon and Russell Chun, directors. Foundation officers and members are Randy Perreira, chair; Peter Kay, vice chair; Rebecca Rude Ozaki, treasurer/secretary; and Arnold Martines, Jo Kamae Byrne, Debra Kagawa-Yogi and Liana Mulleitner, directors.
» Pearl Harbor Naval Shipyard has honored with the Hawaii Navy League George S.B. Walters shipyard service award. She will be honored by the Honolulu Council of the Navy League at the organization's annual sea service awards luncheon Dec. 5 at the Ford Island Conference Center. She serves as the project material manager assigned to the shipyard's Fleet Maintenance Availability Project for Submarines. The award recognizes an outstanding civilian shipyard employee.
---
BUSINESS PULSE