NCL cites currency moves in loss
The cruise line says its Hawaii operations are showing improvement
Norwegian Cruise Line's parent said yesterday it lost $8.6 million in the third quarter due to the effect of the rising euro on its foreign-currency debt, but found a silver lining in the improvement of its Hawaii operations that is resulting in increased bookings.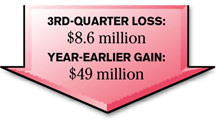 The Miami-based company began taking steps earlier this year to turn around its Hawaii business by announcing that Pride of Hawaii -- one of three NCL ships in the Hawaii market -- would be sent to Europe in February to reduce capacity.
NCL also received a $1 billion cash infusion from private-equity group Apollo Management LP to repay existing debts and support continuing expansion plans, and took advantage of new federal legislation regarding hiring limitations that allows a portion of NCL's formerly all-American crew in Hawaii to be international.
Besides Pride of Hawaii, NCL also operates the Pride of Aloha and the Pride of America in the islands.
"We are ... encouraged that the measures we have taken with respect to our Hawaii operations seem to be having a positive impact," said Colin Veitch, president and chief executive of NCL. "These improvements have contributed to our overall fourth-quarter booking levels and ticket prices being up versus levels achieved at the same time last year. As a result, we expect that the change in net yields -- revenue minus expenses per cruise day -- for the full year 2007 will be positive."
Veitch also said pricing in the Caribbean has stabilized and is improving.
NCL, a subsidiary of Hong Kong-based Star Cruises Ltd., said the revaluation of euro-denominated debt to U.S. dollars resulted in a loss of $42.9 million last quarter versus a foreign-translation gain of $2.5 million a year ago.
In the third quarter of 2006, NCL had net income of $49 million, which included $7.3 million in connection with a settlement agreement for the remaining portion of its claims against the builder of Pride of America.
Revenue rose 5.7 percent last quarter to $631.4 million from $597.5 million as net yields increased 6.3 percent and capacity days -- double occupancy in cabins multiplied by the number of cruise days for the period -- rose 2.8 percent.
NCL said the net yields improved because of an increase in passenger ticket prices due to more consumer demand.
The cruise-line operator said net cruise costs per capacity day increased 6.6 percent from a year ago primarily due to the timing of maintenance and repairs expenses, and higher marketing and general and administrative expenses.
Average fuel prices for the quarter, including the impact of fuel hedges, increased 10 percent to $405 per metric ton from $368 per metric ton a year ago.
Star Cruises also suffered during the third quarter from the revaluation of euro-denominated debt to U.S. dollars and said last Friday that the translation resulted in a loss of $41.7 million in the quarter.
Overall, Star Cruises said it had a net loss of $21.3 million in the quarter compared with net income of $60.4 million a year ago.