---
FAST FACTS HAWAII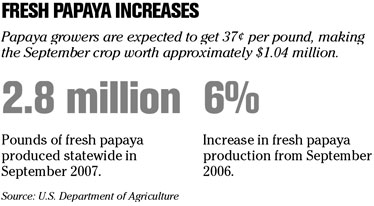 ---
Persis buys pharmacy stores
Honolulu-based
Persis Corp.
has acquired 12
CVS/pharmacy
stores on the mainland, totaling $50 million, the company announced yesterday.
The latest transactions increase the company's portfolio to 23 retail properties in nine states. The stores are in California, Indiana, Illinois, Missouri and Georgia. The acquisition follow more than $100 million in mainland commercial real estate transactions announced in September.
The company owns and manages more than 2 million square feet of commercial space throughout the U.S. Persis currently has no Hawaii holdings.
BRIEF CASE
Block CEO out
H&R Block Inc. said today that Mark Ernst has resigned as chairman, president and chief executive of the tax preparation and accounting services company. He is being replaced as chairman by former Securities and Exchange Commission boss Richard Breeden, who led a dissident shareholder group that won three seats on the board. Alan Bennett was named interim CEO while H&R Block looks for a permanent replacement.
Home construction falls
Construction of single-family homes in October skidded to the lowest level in 16 years although the slide was cushioned somewhat by a rebound in apartment building.
NEW HIRES / PROMOTIONS
» The Waikiki Aquarium has hired
Eric Curtis
as a disease specialist. He will be responsible for determining and assessing all aquatic life health, including quarantining newly arriving animals and maintaining existing exhibits. He previously served as senior aquarist at the Shedd Aquarium in Chicago.
» Bennett Group Strategic Communications has hired Carrie Carlin as account executive. She will oversee the accounts of Maui Land & Pineapple, Hunt Development Group, Whole Foods Market and D.R. Horton-Schuler Division. She previously served as an account executive for Stryker Weiner & Yokota Public Relations.
» Huggo's Restaurant has hired Valerie Lamb as general manager. She will oversee all day-to-day restaurant management operations. She previously served in restaurant management and operations for Outrigger Keauhou Beach Resort and on the mainland. She has more than 18 years experience in the hospitality industry.
» Aloha United Way has announced the following new hire and promotion: Naomi Amuro has been promoted to assistant vice president of community building. She will be responsible for the organization's donor choice program, emergency food and shelter and combined federal campaign efforts, and collect and report program outcomes delivered by the organization's partner agencies. She has served the organization for 15 years. Lena Staton has been hired as AFL-CIO community services liaison in partnership with Maui United Way. She will serve as liaison between Maui United Way and labor organizations, and assist with campaigns and community service projects. She previously served at Renaissance Wailea Beach Resort.
» Mental Health Kokua has hired Greg Payton as chief executive officer. He replaces Joanne Lundstrom. He previously served as regional manager for Kaiser Behavioral Health Services and has 25 years experience in the mental health industry and more than 20 years experience in strategic planning, fund development and program design.
» Kona Brewing Co. has hired Yve Minear as director of restaurant operations. She will oversee all operations of the company's restaurants, retail division and pub licensing. She previously served as district manager for Souper Salad in Colorado and as pub general manager for the company from Jan. 2003 to Sept. 2005. She has nearly 12 years management experience in the service industry.
» Castle & Cooke has promoted Bill Spiegelberg to vice president of construction in Lanai. He joined the company in Aug. 2005 and has been instrumental in managing and merging the Lana'i construction and site operations. He will report directly to Castle & Cooke Hawaii president Harry Saunders.
» Kukui'ula has named Kurt Matsumoto as general manager of club and resort operations. He will oversee special events and programs for the new community club, spa and lounge. He previously served as general manager of the Mauna Lani Bay Hotel & Bungalows and as vice president of resorts and administration for Lana'i Company. He has also served as resident manager for RockResorts' Little Dix Bay in the British Virgin Islands and executive positions for several Hyatt Hotels properties. He 25 years experience in the hospitality industry.
---
BUSINESS PULSE