---
FAST FACTS HAWAII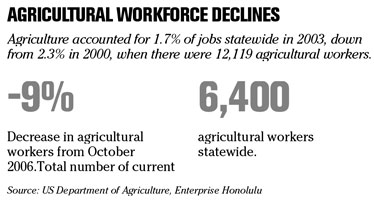 ---
[ Brief case ]
PROFIT FALLS
A warmer-than-expected autumn and higher than expected cost inflation led to a 7.2 percent decline in first-quarter profit for Campbell Soup Co. The world's largest soupmaker said Monday its margins fell largely because it did not raise prices to keep up with rising ingredient costs.
OPENNESS AT ISSUE
Eight big pension funds appealed to the Securities and Exchange Commission not to proceed with the adoption of a rule allowing companies to bar shareholder moves to open board elections. A government workers' union is threatening to sue the SEC if it does so.
LABEL DISPUTE
Tyson Foods Inc. plans to revise labels that say its fresh chicken is "raised without antibiotics" after the U.S. Department of Agriculture said it made a mistake in approving labels that use that term. At issue is whether feed additives called ionophores are antibiotics.
[ Hawaii, inc. ]
NEW HIRES / PROMOTIONS
» Waikoloa Beach Marriott Resort & Spa has named
Sharon Bianco
as director of events. She will be responsible for the resort's catering and banquet operations. She previously served as assistant director of events for Hilton Waikoloa Village and has more than 30 years experience in hotel food and beverage, catering and convention services.
» Sheraton Keauhou Bay Resort & Spa has promoted Jerry Robb to chief engineer from engineer lead. He joined the resort in 2005 as a 1st class engineer and later served as in-house electrician. He has also previously served as head electrician WM Keck Observatories and as an aircraft electrician for the U.S. Armed Services. He has more than 20 years experience in the electrical field.
» Intracorp has promoted Kahi Pacarro to acquisitions manager. He will be responsible for acquisition, pre-development and ongoing development of all Intracorp Hawaii projects which include the Watermark Waikiki condominium. He has served the company since 2003 assisting in developments in both Hawaii and San Diego.
» Cox Radio has announced the following promotions: Michol Klabo has been promoted to general sales manager for KRTR-FM/AM from general sales manager for KCCN-FM 100. She previously served at Salem Media Hawaii and at Clear Channel Radio in Florida for eight years. She has also served in broadcast sales and management positions for KIKI-AM, KPOI-FM and KGU Radio. Maureen Willett has been promoted to general sales manager for KCCN-FM 100 from national sales manager. She joined the company in 1998 as account executive for KRTR-FM, KGMZ-FM and KXME-FM and has also served as vice president of public relations for Stryker Weiner Associates. She has nine years experience in the radio industry.


---
BUSINESS PULSE