| | |
| --- | --- |
| | Newswatch |
---
Pole down, juice out in Hawaii Kai
About 1,085 customers lost power yesterday after a Hawaiian Electric Co. utility pole fell in Hawaii Kai.
The pole went down at 2:28 p.m. near 577 Pakala St., said Janet Crawford, HECO spokeswoman.
"We don't know at this point why the utility pole fell," she said.
Areas affected include parts of Kalanianaole Highway, Lumahai Street, Kaiser High School and Koko Head park and community center.
Repair crews started restoring power to customers within 40 minutes and had power back to all but 200 customers in an hour, Crawford said.
By 4:15 p.m. about three customers still were without power. They had to wait for the utility pole to be replaced, which usually takes six to eight hours, Crawford said.
Ewa asks for anti-crime funds
Ewa community members are asking for donations to help save the Ewa Weed and Seed Site that is in danger of shutting down next year because of a lack of funding.
Residents hope to raise $75,000 through donations to go toward crime prevention programs, including neighborhood watches and truancy sweeps. Weed and Site sites are designated high-crime neighborhoods with the mission to reduce and prevent crime, which includes hiring additional police officers and imposing stiffer penalties for crime in the area.
"For so long, too many people in our community were afraid," said longtime Ewa resident Kurt Fevella. "Drugs had taken over our parks and too many of our families. Weed and Seed has helped us take back our parks and helped our residents take back their life."
Donations, which will be accepted through next year, can be made online at www.96706online.com by clicking "Community Organizations," or mailed to Ewa Beach Lions Club (Save Our Site), P.O. Box 2044, Ewa Beach, HI 96706.
Insurers pony up for firetruck
The Honolulu Fire Department plans to purchase a $150,000 brush rapid-attack truck for fighting wildfires, using a $57,525 grant from several insurance companies.
"This is a great addition to our department and will greatly enhance our ability to fight brush fires on the island," said Fire Chief Kenneth Silva in a written news release.
A federal grant will cover the remaining cost of the vehicle. Silva said he hopes the vehicle will be ready for next summer's wildfire season.
The companies contributing to the donation are Fireman's Fund Insurance Co., Finance Insurance, Insurance Associates, King and Neel, Monarch Insurance Services and Servco Insurance Services.
City hiring lifesavers-in-training
The city is holding open recruitment for emergency medical technician trainees. All applicants must apply online at www.honolulu.gov/hr by Dec. 6.
For information regarding the position, go to the Department of Human Resources Web site at www.honolulu.gov/hr or call the Department of Human Resources at 768-8536.
Starting pay is $2,917 a month. Applicants must have a high school diploma or equivalent, a nationally recognized CPR certificate and a valid Class 3 driver's license when they apply.
3 more sites offer flu vaccine
Flu shots will be available at three more community clinics this month on Oahu, the Hawaii Medical Service Association has announced.
HMSA, HMSA 65C Plus and HMSA QUEST members 18 and older can get free flu shots at these clinics while the vaccine supply lasts:
» Tomorrow, Longs Drugs Moiliili, 4 to 7 p.m.
» Next Monday and Nov. 28, Wal-Mart, Keeaumoku Street, 10 a.m. to 2 p.m.
HMSA members must show their card and photo identification. Nonmembers must pay $35. There will be no fee for Medicare Part B beneficiaries who show their Medicare card and photo ID.
ISI Health Enhancement Services, a subsidiary of HMSA, will conduct the community flu shot clinics.
| | |
| --- | --- |
| | Police, Fire, Courts |
---
NEIGHBOR ISLANDS
Pahoa teenager gone since August
Big Island police are searching for a 14-year-old Pahoa boy reported missing from his home on Aug. 8.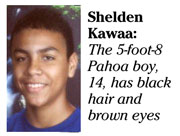 Shelden Kawaa is described at 5 foot 8 inches tall, about 168 pounds, with black hair and brown eyes.
Anyone with information on his whereabouts is asked to call police at 935-3311 or CrimeStoppers at 961-8300 in Hilo or 329-8181 in Kona.
Abuse suspect held in Philippines
A man facing a string of criminal charges for allegedly molesting two minors in Hawaii has been arrested in Manila, the Philippine Immigration Bureau said today.
Reynaldo Estillore, 48, was arrested Thursday in Bauang town, about 140 miles north of Manila, the bureau said in a statement.
Estillore is originally from the Philippines.
He has been charged with 46 counts of sexual assault for allegedly molesting two minors in Hawaii. He will be deported to the state to stand trial, the statement said.