---
FAST FACTS HAWAII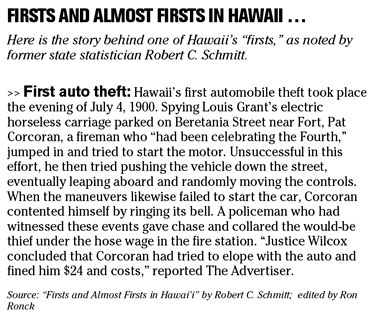 ---
NATION
Holiday air travel forecast to rise
WASHINGTON » Airline passenger traffic around the Thanksgiving holiday is forecast to rise 4 percent from a year ago, according to a trade group for U.S. carriers.
The Air Transport Association last week said it expected about 27 million passengers to fly over 12 days beginning this past Friday, with planes about 90 percent full.
In an attempt to minimize travel hassles, some big airlines will add as many as 500 seasonal workers -- some of whom had been furloughed -- to usher fliers through airports, said James May, president of the association.
The industry anticipates an average of about 2.5 million passengers a day on the Wednesday before Thanksgiving, and the Sunday and Monday after the holiday, according to ATA. Average daily passenger traffic this year is roughly 2.1 million, with load factors of about 80 percent.
The expected uptick in holiday air travel comes in spite of historic delays reported by airlines all year. In 2006, the trade group forecast a 3 percent increase in Thanksgiving passenger demand, compared with a year earlier.
More than 24 percent of flights arrived late through September and the industry's on-time performance through September was the worst since comparable data began being collected in 1995, according to the U.S. Department of Transportation.
Consumers warm up to 'green'
American consumers are increasingly interested in save-the-planet products, said a recent survey, and they want to see companies live up to "green" promises.
Americans surveyed overwhelmingly want to buy energy-efficient and eco-friendly products and support fair labor and trade, so long as price remains low and quality high.
Sixty-six percent of respondents cited quality as the most important factor when deciding when to buy, followed by price with 58 percent, but such as a product's country of origin, how energy efficiency it is and its health benefits were all more important to consumers than convenience.
Favorite socially responsible companies included Whole Foods Market and Newman's Own.
"It's not about slapping a green label on a product," said Raphael Bemporad, founding partner of marketing agency BBMG, which conceived the survey. "It's about matching your eco-friendly promises with socially responsible actions. How (companies) treat employees, organize (the) supply chain and manufacturing."
BBMG partnered with research firm Global Strategy Group to conduct an unscientific online survey of more than 2,000 American adults in September.
'Front-line employee' writes book
Business journalist Alex Frankel chronicled his adventures working the customer-service front lines at five different retail chains over two years in his new book, "Punching In: The Unauthorized Adventures of a Front-Line Employee."
From a stultifying stint folding sweaters and manning the fitting room at a 37,000-square-foot Gap store in San Francisco to riding shotgun for UPS during the rush of pre-Christmas delivery season, Frankel mined his entry-level retailing months for clues to corporate brand identity and its influence on employee performance.
"Each of these places has a different kind of person that matches the culture and what (the chain) is doing," said Frankel. "In each place, even though I might not have prospered or loved it, I always found at least one person who was doing great and fit in perfectly."
He found, for example, Starbucks' efforts to be a community's public space undermined by constant employee turnover and a lack of thorough training -- but his supervisor thrived and he said her dedication inspired him.
In Frankel's experience, Apple seemed to seek out store employees who were already lovers of the brand and whose enthusiasm, bolstered by on-the-job training, drove their ability to sell -- whereas Gap's stagnant product line failed to excite most employees, and, apparently, customers. At the time Frankel worked for the apparel retailer, in 2005, the company's brand was foundering and profits diving.
---
BUSINESS PULSE