FILM
Isle-based film company goes both ways on offerings
STORY SUMMARY »
Regent Entertainment has mastered the art of selling one film to both traditional and gay and lesbian audiences in a cost-effective manner unknown to many viewers.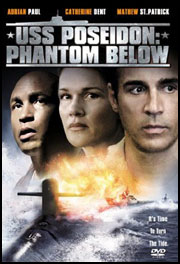 About five years ago, the Hawaii-based Pacific Films (Regent is its primary investor) shot a submarine thriller on Oahu for about $2 million. "Phantom Below" went straight to television and DVD, and included everything you'd expect from a low-budget adventure flick.
For the reprised version, the fairly recognizable television actors shot several extra scenes depicting the lead character, a submarine commander, engaging in a clandestine same-sex relationship with another man. Editors inserted the steamy additions, retitled the movie "Tides of War," aired it on Regent's gay and lesbian channel and pivoted marketing for DVD sales.
It's a tactic they've used successfully in 15 movies, according to Stephen Jarchow (pictured), Regent Entertainment's chairman and chief executive officer, who was in town earlier this month to seek investors and plot next year's films in Hawaii.
Profitability is the key to every project, said Jarchow. And to get there, "we have to do things very cleverly."
STAR-BULLETIN
---
FULL STORY »
Stephen Jarchow, chairman and chief executive officer of Regent Entertainment, approaches his morning routine as systematically as he undertakes each of the 25 to 30 movies his companies make each year. Yoga and stretching are followed by treadmill running -- while he watches movies on DVD -- followed by light reading, such as Tolstoy's "War and Peace."
He says his athletic pursuits help him stay focused. Otherwise, in his business, "you can be aggravated all the time," he laughed.
About five years after their first film, "Tides of War," was shot on Oahu, Jarchow and his Hawaii-based production company, Pacific Films, have spent approximately $30 million here on 12 movies (half of which was raised from 150 Oahu investors). What started as an experiment is still going strong, largely because of tax credits offered to companies bringing recurring business to the islands under Act 221. Earlier this month, he visited Honolulu from Los Angeles (he also lives part time in Dallas), to seek new investors and share plans to shoot several films in Hawaii next year.
The next round of financing will determine upcoming projects. These might include a follow-up to the successful "Dante's Cove," a sexy supernatural series created for the gay and lesbian market. "(The shows) are kind of over the top, but people like them a great deal," Jarchow said. In other words, they're profitable. Also high on his list: action-disaster pictures involving hurricanes, asteroids and falling space stations.
Though Regent Entertainment generated the award-winning "Gods and Monsters," starring Sir Ian McKellen, Jarchow is the first to admit that "we are a volume producer." His films typically cost $1 million to $3 million. Indeed, his company is the largest single producer of television movies in the world.
Jarchow, who earned his undergraduate accounting degree -- as well as business and law degrees -- from the University of Wisconsin, solidifies the profit margin before a film ever gets made. Cost-cutting measures include selling the product to television ahead of time. Whirlwind shoots last two or three weeks, and sometimes only 10 days -- a schedule he described as "crazy."
In addition to infusing a notable sum of money into the local economy, Jarchow and his company also support Hawaii's film industry. "It's more cost-effective to look for and develop local talent, and they give opportunities to local people that are not otherwise afforded them," said Honolulu film commissioner Walea Constantinau. "You need lower-budget productions to facilitate the development of the industry."
Jarchow agreed. "We are teeny tiny compared to ('Lost'). But we have been a good source of local people upgrading to the next level in their careers. It's a real opportunity for people to grow."
Hawaii state film Commissioner Donne Dawson said Jarchow's Regent Entertainment "is a really good example of a company that has a tried and true formula for doing what they're doing. He's become very familiar with our local landscape in terms of what Hawaii has to offer, and what the needs and challenges are."
But none of it would have happened without the tax incentives. "Hawaii is not an inexpensive place to shoot," Jarchow said, before quickly adding that the diversity of the location helps compensate for the cost. "There's a really interesting noir-ish aspect to Honolulu. And you can get really good actors because they like coming here."