Sober and safe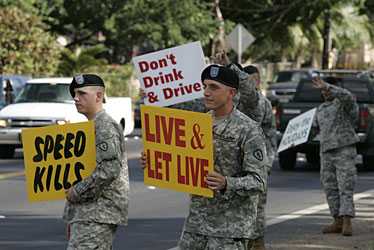 DUI offenders should pick up a sign to make amends
This is in regard to the letter "
Don't apologize, just stop driving drunk
" (Star-Bulletin, Nov. 2).
Now that you have all apologized and realized the consequences that you have put yourself, your family and the community in danger, it's time to be accountable for your actions. I invite Kimo Kahoano, Jon Riki Karamatsu and Daniel Dae Kim to our 23rd year of "Live & Let Live," a program that was started on the Waianae Coast and has now expanded to Kapolei and Ewa to educate people about the dangers of drinking and driving.
Our students, community organizations and community members will demonstrate this by mass sign-holding events on Dec. 6, 11, 13, 18 and 20 at Nanakuli Beach Park and Maili Beach Park from 3 p.m. to 5 p.m. The program demonstrates how we feel about alcohol on our streets and the danger of speeding and drinking and driving.
Our community has worked hard for 23 years, along with our Honolulu police districts, to promote the "Live & Let Live" program and to one day have our communities safe from those who think that drinking and driving is acceptable.
Come and join us for yourself, your family and our community. It's another way of healing and recovery. We welcome you!
Patty Kahanamoku Teruya
Member of Live & Let Live program
Nanakuli
Attending UH game isn't worth the risk
University of Hawaii football fans are getting detailed coverage in the mainland media. Indeed, a recent Scout.com article documented the nonstop taunting, obscene language and potentially dangerous physical attacks rained on Fresno State fans at a recent game. Stadium security was feckless.
In case UH or anyone else cares, perhaps this is partly why an undefeated UH team can't come anywhere close to a sell-out at Aloha Stadium -- a stadium that once routinely sold out for much less successful Rainbows.
For what it's worth, I won't be there any longer. I don't need to see someone die to recognize the risks.
Mike Rethman
Kaneohe
Good security can keep games fun, safe
I recently went to my first Boston Bruins hockey game and found myself sitting by a large group of the opposing Montreal fans. Emotions started to build up during the game and words were exchanged between both groups of fans.
I was impressed with the way the ushers, security and Boston police officers handled the fans. They allowed the fans to express themselves, yet allowed everyone to still enjoy the game.
When the ushers felt the fans were starting to get out of control, they sent the security to patrol the troubled area before the situation started to escalate. When a fan got out of hand, the Boston police were quick to escort the individual out of the game despite his refusal.
Perhaps the Honolulu police and University of Hawaii stadium security need to learn from other large cities about handling rowdy crowds so they don't have another embarrassing situation like the UH vs. Fresno game.
Ruth Takeuchi
Boston, Mass.
Go after the vines that kill roadside trees
I am writing with concern about the insidious environmental and safety problem of vines attacking and killing the trees along our roads.
On Oct. 28
, you reported that the Transportation Department hoped to meet with the Outdoor Circle to discuss the removal of trees that are in poor health along Likelike Highway, Pali Highway and the H-3 freeway. It is obvious that the cause is the unchecked growth of various vines on these trees.
I would hope that our officials will consider simpler, more cost-effective, low-tech approaches. For example, people could be hired to periodically walk the land where the trees are, cutting the vine stems using simple pruning shears, and mulching or spraying herbicide on the vines around the base of the trees. Let the vines die, shrivel and decay in place. No need to remove anything. No need for lane closures.
The city could contract for these services with young entrepreneurs interested in an active outdoor lifestyle of caring for our land with simple methods and making it flourish again.
If the DOT plan is limited to destructive tree removal using heavy equipment, our roadways and watersheds may become a landscape of dead and dying trees.
Doug Smith
Kailua
What is being done for ferry riders' safety?
Now that the Hawaii Superferry is about to set sail again, the issue of passenger safety has not been completely addressed. During the "riots" on Kauai, the Kauai police, state and Coast Guard proved they could not ensure passenger safety, and there are no guarantees that passengers will be safe now.
What will be done about harassment of passengers after they leave the ferry? Will their cars be in danger of vandalism by disgruntled Kauai and Maui residents who oppose the ferry? What about verbal abuse against ferry passengers? Assurances must be made that passengers will be safe on and off the Superferry. Unfortunately, as history has proven, the authorities don't act until someone has been hurt or killed. Will that also be the case now?
David Bohn
Wahiawa
High gas prices bring on longing for rail
I was at the store the other day, and when I paid for my purchases, I calculated the extra general excise tax surcharge for rail. It came out to one penny for every $2 I spent. I didn't even notice the difference. But when I went to fill up my gas tank, I did think about the big jump in prices, now up about a dollar a gallon from what it used to be just a year ago.
I can't wait for the rail to be up and running so I have a choice. I won't have to drive my car as much, and I won't have to pay so much at the pump. Rail will save me money in the long run.
Ann Lee
Waipahu
Elevated bus lanes beat rail every time
Let's just take a look at our mass transit options. We can have elevated rail or elevated managed bus lanes. Which is better for the current and future transit riders?
Express buses on elevated managed bus lanes are superior to rail in every category. They are twice as fast as rail because there are no express trains (over a 20-mile route, the bus saves 28 minutes versus rail). Because of their speed, more commuters are likely to switch to express buses at 60 mph than rail at 25 mph. They have fewer transfers than rail. The routes are more flexible than rail. They are safer than rail because they do not have stops at elevated platforms that are a magnet for crime. Seniors will feel more comfortable sitting next to a driver rather than being closed in a car with no driver. They have a greater capacity than rail. They are cheaper than rail and would not require the extra excise tax.
They use American technology we already know how to maintain.
In addition, everyone can use the lanes when the H-1 is closed or partially closed. They can be used by police, ambulance, fire trucks, Handivans, school buses and vanpools. They can point toward Aloha Stadium before a game and away from Aloha Stadium after the game.
John Brizdle
Palolo Valley
If teachers are tested, others should be, too
It seems that the state administration is helping to perpetuate the low status of teachers in our society. They claim that the drug-testing of teachers is necessary to protect children from "poor judgment" and other effects of drug use, but they do not propose the same thing for pediatricians, nor family court lawyers and judges, not to mention the Department of Education administration and the state administration itself, whose "good judgment" affects far more children than any teacher.
You cannot treat teachers with such disrespect then expect to attract and keep the best and brightest to educate our keiki.
Robin Uyeshiro
Kailua
Senate lacks members of high caliber
The American Civil Liberties Union and its sycophantic types might be responsible for Judge Randal Lee's rejection by the Senate for the Intermediate Court of Appeals position.
However, another scenario is that Lee, a man of principle, was unwilling to grovel and kowtow to these senators, who view themselves as anointed, not elected.
Things today are about the same as when Mark Twain wrote, in 1866, about the Hawaii Legislature:
The mental caliber of the Legislative Assembly is up to the average of such bodies the world over -- and I wish it were a compliment to say it, but it is hardly so. I have seen a number of legislatures, and there was a comfortable majority in each of them that knew just about enough to come in when it rained, and that was all. Few men of first class ability can afford to let their affairs go to ruin while they fool away their time in legislature for months on a stretch. Few such men care a straw for the small-beer distinction one is able to achieve in such a place. But your chattering, one-horse village lawyer likes it, and your solemn ass from the cow countries, who don't know the Constitution from the Lord's Prayer, enjoys it, and these you will always find in the assembly; the one gabble-gabble-gabbling threadbare platitudes and "give-me-liberty-or-give-me-death" buncombe from morning till night, and the other asleep, with his slab-soled brogans set up like a couple of gravestones on the top of his desk." -- Mark Twain, "Letters from Hawaii."
Sound familiar?
William Fenton Sink
Attorney
Honolulu
Saudis uphold high standards of decency
"A Saudi court sentenced a woman who had been gang raped to six months in jail and 200 lashes ..." (Associated Press news item, Nov. 16).
It's nice to know that our major ally in the Middle East has strong moral standards and doesn't hesitate to enforce the law. What a contrast to the evil rule in Iraq which President Bush has successfully overthrown!
John A. Broussard
Kamuela, Hawaii