Cell phone lot already has fans
The new facility is free and convenient, users say on its first day
STORY SUMMARY »
It beats driving around looking for a place to stop at the curb, trying to avoid a security guard or paying for parking when waiting for someone arriving at Honolulu Airport.
State officials hope to alleviate the traffic jam outside the baggage claim areas of the terminals by allowing people to wait in a vacant lot for a cell phone call from the person to be picked up.
Although only large enough for 30 to 40 vehicles, the lot gives drivers a place to wait for up to an hour without circling in traffic, dealing with curbside restrictions or paying parking fees.
"It's a popular idea at many mainland airports, so we decided to try it," said Department of Transportation spokesman Scott Ishikawa.
STAR-BULLETIN
---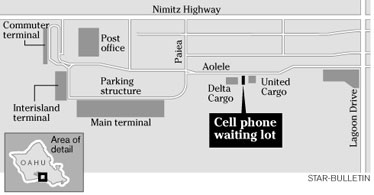 ---
FULL STORY »
Just in time for the holiday season traffic crunch, the state opened a lot yesterday for drivers waiting for a cell phone call telling them they can pick up their friends or family at Honolulu Airport.
Cell phone lot rules
» 60-minute maximum wait

» Lot open from 5 a.m. to 10 p.m. daily

» Unattended vehicles will be cited and towed.

» No commercial vehicles

» First come, first served

Source: State Department of Transportation
State officials hope the lot, which can hold 30 to 40 cars, will alleviate traffic outside the baggage claims of terminals during the holiday season. It is located on Aolele Street.
"Drivers can now wait in a free parking area until arriving family and friends have collected their luggage and are ready for pickup outside of baggage claim," said Barry Fukunaga, state transportation director.
The waiting lot is about 70 feet wide and 220 feet long, bordered by a barbed-wire topped fences on three sides. It is less than a five-minute drive to the airport terminals.
At the lot yesterday, Nelson Uyemura, 32, sat in the cab of his white pickup truck waiting for his boss to call from an arriving flight. "I think it's a good idea," he said. "It's free -- that's the best part of it."
Uyemura, an Outback Steakhouse employee, visits the airport once a month to pick up company representatives from the mainland.
It is better than driving around the airport or waiting at Starbucks for a phone call, he said.
Paul Ratterman and Dale Long opted for the lot's scenic view and parked their red van near the end facing the runways.
Ratterman said he had seen the concept of a waiting lot at an airport in Portland, Ore., and said it "absolutely made sense" when he learned that Honolulu now has one.
"We think it's a great idea and they should landscape it a little bit," said Long.
Transportation Department spokesman Scott Ishikawa said "it's a simple lot" that provides a place for folks to temporarily park.
The lot is one idea to help alleviate traffic during the holiday season, Ishikawa said. The state also opened an economy lot near the waiting lot earlier this month.
While the opening for 360-stall economy lot was slow, it was about two-thirds full over Veterans Day weekend, Ishikawa said.
"We know it's going to be much busier at the airport with the holiday travel season. We wanted to try these different ideas to see which ones the public likes," he said.