| | |
| --- | --- |
| | Wood Craft |
---
Kaleikini, Manoa DNA honor Marines home from Mideast
D
anny Kaleikini, Manoa DNA
and the crowd at LuLu's Surf Club honored a table of Marines celebrating their first night on the town Nov. 9 after returning from the Mideast war zone.
Cal Lui
is a big fan of Manoa DNA, and he had friends, including Danny, at his table for the popular vocal-instrumental group's regular Friday-nighter at LuLu's.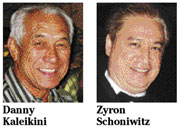 When Danny learned about the Marines in the house, he went onstage and talked to band members after they closed out a set. He then announced that he and the group wanted to honor the Marines for their service to our country. The crowd fell silent when Danny and the group began a powerful version of "Battle Hymn of the Republic." Then the audience joined in singing the "Glory, glory hallelujah" part. It was chicken skin all around ...
Danny will be master of ceremonies Tuesday when a number of early tourism giants are inducted into the Hawaii Hospitality Hall of Fame at a banquet at the Hawaii Convention Center. They make up the charter members of the hall. Listed alphabetically, they are R. Alex "Andy" Anderson, Ed Barnet, Bick Bickson, the father-son team of Walter and Dudley Child, Hung Wo Ching, Webley Edwards, Mark Egan, Lyle and Grace Buscher Guslander, Ed Hastings, Chris Hemmeter, Chinn Ho, Don Ho, Bob Holden, Richard Holtzman, Duke Kahanamoku, Henry Kaiser, Roy and Estelle Kelley, Stanley Kennedy Sr., Bob MacGregor, Jimmy MacKenzie, Bill Mullahey, Pat Patterson and Mary K. Robinson. Some of the late inductees' family members will attend. Besides Danny, the program will include singers Nina Kealiiwahamana and Joe Recca. Bob Herkes is hall chairman. Vice chairmen are Peter Fithian and John Brogan. Call 956-7111 for tickets priced at $180 each ...
Zyron meets big names at Singapore MOrton's
Former Honolulu restaurateur
Zyron Schoniwitz
is meeting some heavy hitters while working as general manager of Morton's in Singapore. This month, former Japanese Prime Minister
Junichiro Koizumi
was in the steakhouse, and late last month
Dwayne "The Rock" Johnson
was there. Zyron called The Rock a "super down-to-earth nice guy." He talked about what a small world it is, with them both going to school in Hawaii ...
Ben Wood
, who sold the Star-Bulletin in the streets of downtown Honolulu during World War II, writes of people, places and things in our Hawaii. E-mail him at
bwood@starbulletin.com