Airport viaduct lanes to close
A $9.1 million project will include concrete pavement repair
Expect additional lane closures on the H-1 freeway airport viaduct beginning this weekend and on Beretania Street next week, according to the state and city Transportation departments.
On Sunday, three lanes of the airport viaduct will be closed from 7 a.m. to 10 p.m. in the westbound direction. The rightmost lanes will be closed from the airport onramp to the Aloha Stadium offramp, and traffic will be reduced to 15 mph.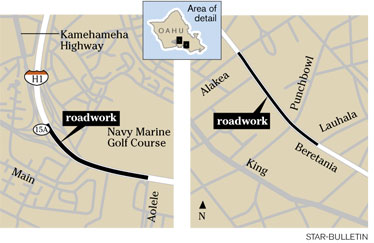 Onramps and offramps will remain open during the roadwork.
Department of Transportation crews plan concrete pavement repair as part of a $9.1 million project to fix potholes along a 3-mile stretch of the H-1 airport viaduct between Middle and Valkenburgh streets, a state Transportation Department news release said.
Workers will use a fast-forming concrete to fill potholes. To minimize vibrations as the concrete cures, the speed limit will be reduced and enforced by special-duty police officers.
The state is advising motorists to use caution in the area or take alternate routes such as the Moanalua Freeway or Nimitz Highway. Roadwork is weather permitting.
On Beretania Street, city crews will close as many as three lanes overnight from Lauhala to Alakea streets. One lane will remain open for motorists, a city news release said.
Crews are expected to work from 8 p.m. to 5 a.m. on Monday, Tuesday, Friday and Nov. 26. Motorists are encouraged to avoid the area during these times.
The city roadwork is part of a Beretania Street rehabilitation project from North King to Alapai streets that includes reconstructing sidewalks and roadways, resurfacing, repairing concrete bus pads and other services.
For more information on the city road lane closures, visit
www.driveakamai.org
or call 768-3777.