SPORTS CONCUSSIONS
A rattling reality check
Doctors believe concussion patients who return too soon risk greater injury
»
Risks are similar for football and soccer players
» In Sports: UH-Nevada full of intrigue
When star quarterback Colt Brennan slammed to the ground in the University of Hawaii's last football game, he might have helped wake up the state to the issue of sports concussions.
The symptoms
Concussions range in severity and can occur even if the person does not lose consciousness. Here are some common symptoms:

» Nausea
» Balance problems or dizziness
» Double or fuzzy vision
» Sensitivity to light or noise
» Headache
» Feeling sluggish, foggy or groggy
» Concentration or memory problems
» Confusion
» Behavior or personality changes
» Answers questions slowly

Everyone seems to have an opinion on whether the Heisman Trophy contender should play in tonight's game against the University of Nevada in Reno just six days after the hit that left him motionless on the field Saturday. Dr. Terry Shimamoto, a neurologist in private practice at Kuakini Health System, sees it as a chance to educate people about concussions.
"Athletes need to take this seriously, first of all, and not think it's a good attitude to tough it out," he said. "The most dangerous aspect of concussions is repeated concussions. You're at a susceptible time and more prone to get further injury to the brain."
Doctors follow medical standards on when to return athletes to play based on the severity of the concussion. Athletes who do not lose consciousness and whose symptoms resolve in less than 15 minutes may return to the same game, according to guidelines developed by the American Academy of Neurology.
But those with more severe concussions are held out for a week or longer. If their concussion symptoms last more than 15 minutes, or they lose consciousness for a matter of seconds, they may return to play in a week. Those who are knocked out for minutes should stay out for two weeks, according to the guidelines.
Initial reports indicated that Brennan had blacked out during the Fresno State game, but coach June Jones said Wednesday that "they're not sure if he was knocked out." Before heading to Nevada, he said Brennan was fit to play.
Percentage of public high school athletes in Hawaii who suffer concussions annually:
5 to 8
One of the risks of returning to play too early is "second-impact syndrome." When a second concussion follows shortly after an initial one, it can cause rapid brain swelling that can result in coma or even death, according to the Centers for Disease Control.
"We feel strongly that an athlete should not return unless he's completely recovered because you can have second-impact syndrome," said Dr. Greg Yim, a pediatric neurologist in private practice in Honolulu. "If the child experiences another head injury, you could have massive swelling or edema to the brain because you lose the mechanism of auto-regulation."
Concussions are especially dangerous for young athletes, whose brains are still developing.
"All of us at the high school level take it very seriously because our student athletes are still physically maturing, including their brains," said Keith Amemiya, executive director of the Hawaii High School Athletic Association, which represents public and private high schools. "We don't want to risk the possibility of long-term damage to the brain."
In Hawaii, 5 percent to 8 percent of athletes in public high schools suffer concussions each year, according to Ross Oshiro, athletic health care trainer coordinator for the state Department of Education. Concussions can cause a variety of symptoms, including unsteadiness, nausea, confusion and memory problems. But without a base-line test, it can be hard to gauge whether an athlete's mental function has slipped as a result of a concussion.
"The athlete may look fine from the outside, but on the inside he's still in recovery," Oshiro said.
To try to get a handle on that, six public high schools in Hawaii are piloting a program of neuro-psychological testing for athletes in contact sports. The students take a computer-based battery of tests before the season starts and again if they suffer a concussion. Information is being collected at Castle, Kalani, Leilehua, McKinley, Roosevelt and Moanalua and will be compared with data from schools without the program.
Amemiya said his association and local sports leagues have been exploring the possibility of extending such testing statewide, but it would be costly.
What to do?
»
Tell coaches and parents.
Never ignore a bump, blow or jolt to the head.
»
Get medical help right away.
A health care professional can tell you if you have had a concussion and when you are OK to return to play.
»
Take time to heal.
While your brain is still healing, you are much more likely to have a second concussion. Second or later concussions can cause permanent brain damage and even death in rare cases.
Source: "Heads Up: Concussion in High School Sports," Centers for Disease Control and Prevention
On the Net
"Heads Up: Concussion in High School Sports" offers information for coaches, parents and players:
www.cdc.gov/ConcussionInYouthSports
Source: Journal of Athletic Training, "Concussions Among United States High School and Collegiate Athletes," Winter 2007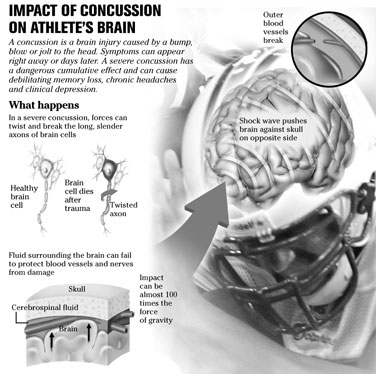 Most susceptible
Concussion rates per 100,000 player games or practices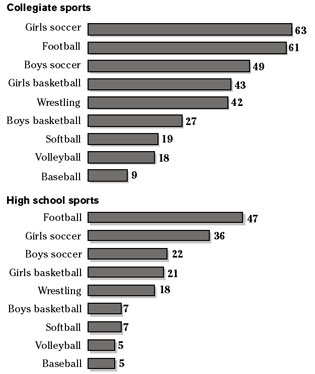 ---
Risks are similar for football and soccer players
Concussions and football tend to go together.

"If it happens, it happens -- it's part of the sport," said University of Hawaii running back Alonzo Chopp, who suffered a concussion during practice early in the season and took a couple of weeks off.

Asked how many of his players had suffered concussions, UH football coach June Jones declared this week, "I would say every one of them, at one time or another."

What is less well known is that female soccer players might be as much at risk as college football players.

A study to be published next month in the Journal of Athletic Training found that at the college level, female soccer players suffer concussions at roughly the same rate as football players. Nationwide, there were 61 concussions among college football players and 63 among female soccer players for every 100,000 player practices or games.

At the high school level, football was the riskiest, but girls soccer came in a strong second. High school football players had 47 concussions per 100,000 practices/games while girls soccer players had 36, followed by boys soccer at 22 and girls basketball with 21.

"Concussions aren't just a football problem," said Christy Collins, an author of the study, said yesterday in an interview. While heading the ball was associated with concussions, she said, "It was really contact with another person rather than contact with the ball -- when two players go up at the same time" and hit each other, or fall back to the ground.

The high rates in girls soccer might be due to lack of protective equipment, or biological factors such as head mass and neck strength, said Collins, a research associate at the Research Institute at Nationwide Children's Hospital.

"It could also be that culturally girls are encouraged to report the symptoms, but boys are taught to play through the pain and tough it out," she said. "We don't want anyone to underestimate concussions and the long-term negative effects they can have, especially when you have multiple concussions."

The study's authors hope it will help pinpoint ways to prevent such injuries, but said it should not dissuade students from participating in such sports.

"Especially with obesity such a concern, we want them to participate in sports," she said. "We don't want parents to keep them off the playing field. We just want to make it safe for athletes to play. There are tons of benefits that high school sports provide."