Busy Jasmine returns to the islands for 21st birthday
JASMANIA RETURNS to Honolulu this weekend, as
Jasmine Trias
wraps up a busy year with her 21st birthday party at Pearl Ultra Lounge on Friday.
"It's been really busy for me, but really exciting," Trias said last week while at Pearl for a pre-party planning meeting. "I was rarely in Hawaii."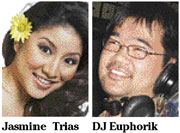 Her biggest accomplishment of 2007, she said, was performing with the Society of Seven in Las Vegas in place of Lani Misalucha. Trias even returned for a second stint, and expects to get the call again in 2008.
But after tour dates on the East Coast and in Canada and the Philippines, Trias is happy to be home.
"I'll be here for a while to celebrate my birthday and spend time with my family for the holidays," she said.
"Next year, I'll start ... on all my big projects."
Those include a Christmas compilation album set for release on iTunes, followed by separate albums for the U.S. and Philippines. She'll also star in her first major motion picture produced in the Philippines, and will continue with online classes via the University of Phoenix's Honolulu campus.
For now, Trias wants to savor the experience of planning and hosting her 21st birthday party.
"I never really got to plan any of my birthday parties," she explained. "After 'American Idol,' I was 16 going on 17 and didn't really have a sweet 16 party ... and then my 18th party and graduation was all planned when I came back, so everything was kind of taken care of for me."
This time around, expect a "true expression" of Trias' tastes, with a "blinged-out" theme and fashion show by Blue Buddha. DJ Kutmaster Spaz will join Pearl resident DJ Paul Brandon on the turntables, and guests will get a sneak preview of "Pacific Groove," a new television program she's been hired to host. (For more on that, see Katherine Nichols' "Screen Time" in Thursday's paper.)
First up for the newly-minted 21-year-old: "I've always wanted to go to Dave and Buster's ... and just club-hopping and drinking with my friends, I've never gotten to do that before."
Doors open at 8 p.m. Friday; call 944-8000. For exclusive video of Jasmine, check out my blog ...
KUDOS TO the organizers and volunteers behind this year's Island Independent Film Festival.
Despite some snickers over the number of films showcased compared to the recent Hawaii International Film Festival, turnout was strong. Saturday's Showdown in Chinatown finals and second anniversary celebration was a success, and a sold-out crowd showed up on Sunday for the Hawaii premiere of "Planet B-Boy."
Directed by Benson Lee, "Planet B-Boy" should be required viewing for any true hip-hop fan. It's a 95-minute voyage into the world B-Boy championships, and Lee does an excellent job of capturing not only the dance, but also the personalities of the dancers themselves.
"We filmed 350 hours of footage in four languages," Lee said after the film screened. "This was the hardest I've worked in my whole life ... (and) the greatest experience.
"A lot of people opened up to me and I didn't even know them."
If you missed the screening, you can find out more about the movie at www.planetbboy.com ...
WEEKEND PICKS: Indigo celebrates its 13th birthday on Friday with a free party for the 21-and-over crowd. Enjoy free drinks between 9 and 10 p.m. courtesy of promoters G-Spot and Sovern-T, followed by DJs Ms. Angel, Jahson the 45 Revolver, Lava, Kavet the Catalyst, Shawn G and the Nocturnal Sound Krew until 2 a.m. ... Kualoa Ranch hosts the first annual "Jawaiian Barbeque Cookoff Festival" on Saturday. Keiki under 12 get in free, and Natural Vibrations, Ooklah the Moc, Insight, Micah G and Hot Rain, Konfrontation and Jah Roots will play while food is served. Call 296-9850 ... DJ Paul Brandon returns to Pipeline Cafe on Wednesday for the "V5 CD Release Party" with DJs PSI, EP, Erick, Dawn, Kyoko, Euphorik, Pachi and Edit from 9 p.m. Cover is $20 for those 18-and-over, and includes a copy of Brandon's new mix CD ...
I'M OFF to the mainland again, this time to celebrate Thanksgiving for the first time in more than 10 years alongside both my mom and little sister. "In the Mix" will return on Dec. 7 ...