---
FAST FACTS HAWAII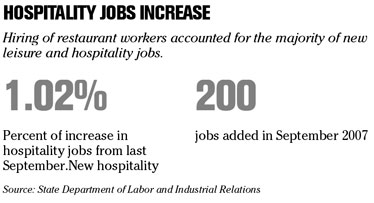 ---
AT&T has wireless outage
AT&T
wireless customers in Hawaii experienced a 12-hour network glitch yesterday as the company performed an upgrade to its 2G network here.
A "small percentage" of customers were unable to make or receive calls or text messages on the network from midnight to noon, spokesman Brian Brokowski said. The company does not disclose how many wireless subscribers it has in the state, he said.
The outage did not affect customers on the company's 3G, or third generation, network, which debuted on Oahu on Monday.
While the upgrades are routine, network outages rare, Brokowski said. AT&T will not offer a billing credit for the outage, he said.
BRIEF CASE
Auto sales slowdown predicted
Toyota Motor Corp., expects an industrywide slowdown in demand to continue into 2008 because of a housing slump and rising gasoline prices. Demand for new vehicles in the first half of next year may fall from a year earlier as the declining housing market continues to be "a drag on the economy," Jim Lentz, president of Toyota's U.S. sales unit.
Treasuries Rise to Two-Year High
Treasuries rose to the highest level since 2005 as concern over subprime mortgage losses led investors to sell stocks and seek the safety of short-term government debt. Yields on two-year notes fell more than 10-year securities as traders increased bets that the Federal Reserve will cut interest rates next month to shore up credit markets.
NEW HIRES / PROMOTIONS
» The Pacific Aviation Museum Pearl Harbor has named
Kenneth H. DeHoff Jr.
as executive director. He replaces
Richard Beckerman
, who served as interim executive director for several months. He is a former U.S. Army captain and combat helicopter pilot who recently served as a telecommunications and construction consultant, and has also held leadership positions in land development, technology services and business management.
» Hawaiian Airlines has hired Eric Kaler as director of security. He will oversee all aspects of the airline's ground and in-flight security requirements systemwide, including compliance with regulations and training programs established by the Transportation Security Administration. He previously served as station manager and security director for Asia Pacific Airlines at Honolulu International Airport and has more than 18 years of domestic and international aviation and security experience.
» Hawaii Preparatory Academy has elected Laurie Ainslie as chairman of the board of governors. She replaces outgoing chairman Putman D. Clark, who will remain on the board. She joined the board in 2003 after serving as the school's chief financial officer for three years.
AWARDS
» Honolulu-based healthcare informatics company
Convergence CT
has won the following awards at the 2007 IBM Information on Demand conference at the Mandalay Bay Hotel in Las Vegas: "Information on Demand innovation Award 2007" in the "Best Dynamic Warehousing Solution" category and "Best IBM Data Server Solution." The awards program recognizes organizations that use IBM-based solutions to significantly improve efficiencies and gain competitive advantage for their organizations. Convergence CT provides comparative analytics for healthcare and research organizations and has regional offices based in San Francisco, Tokyo and Berlin.
---
BUSINESS PULSE