---
FAST FACTS HAWAII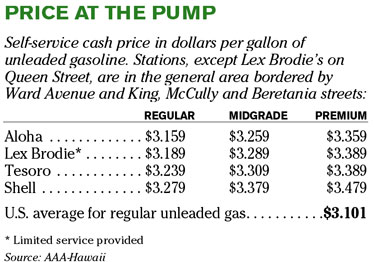 ---
Maui home sales sag, condos gain
The median price paid for a single-family home on Maui declined along with the number of sales in October, but the condominium market improved, according to new data from the Realtors Association of Maui.
More than half of the single-family home buyers on Maui paid $585,000 to purchase a home last month, which represented a 10 percent price decline. Sales of single-family homes also slowed by 12.8 percent and time on the market rose by 41.4 percent.
Maui's condominium market, however, saw the median price rise by 7.8 percent to $550,000. Sales increased by 16.1 percent for condominiums last month and the number of days on the market dropped by 0.7 percent.
Hotel revenues up, occupancy off
Higher room rates at Hawaii hotels in September offset softer demand and helped to boost room revenues to $2.4 billion for the first three quarters of the year, according to the latest Hawaii Hotel Flash Report released by
Hospitality Advisors LLC
.
Statewide occupancy last month slipped by 2.1 percentage points to 74.8 percent. But the average daily room rate increased by 6.9 percent to $181.40 for the months, and revenue per available room improved by 4 percent to $135.68.
September's performance helped room revenues for the year catch up to within one percent of last year's pace. Through September, the statewide average daily room rate reached $200.53, a new record for this time period.
However, statewide occupancy through September fell 5 percentage points to 76.3 percent due to declines in visitor days, air seat capacity and hotel use.
Wedding Cafe expanding
The
Wedding Cafe
, a combination wedding resource center and cafe, will open its second location, at Ward Warehouse, on Thursday.
The first location opened in 2001 at the Manoa Marketplace shopping center. At Ward Warehouse, the Wedding Cafe has set up shop two doors down from Cinnamon Girl and across from Town & Country Surf Designs. An open house will be held on Nov. 18.
Besides offering coffee, salads and sandwiches, the cafe, run by Tanna and Bryson Dang, offers a library of wedding books and magazines. Free workshops, held on Wednesdays, feature wedding professionals that help a bride plan her wedding.
BRIEF CASE
Trade surplus high
China's trade surplus jumped to a new all-time monthly high in October, according to official data released yesterday, despite government pledges to restrain export growth and adding to pressure for action on trade barriers and currency.
Blackstone loss
Blackstone Group LP reported a third-quarter loss yesterday on charges related to its initial public offering and lower real-estate fees, sending shares down more than 6 percent.
---
BUSINESS PULSE