---
FAST FACTS HAWAII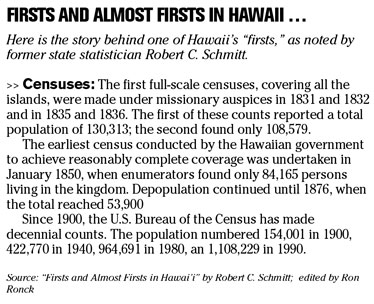 ---
NATION
Optimistic is good, cocky is not
An optimistic outlook on life, it seems, can help us make wise financial and career decisions -- up to a point.
Using financial and demographic information collected every three years by the Federal Reserve, two finance professors at Duke University concluded that people who are optimistic are more likely to display prudent financial behaviors: saving more money, investing in stocks, paying off credit cards on time, working longer hours.
But overconfident people -- professors Manju Puri and David Robinson label them "extreme optimists" -- tend to have short planning horizons and act in, well, foolish ways: working fewer hours, saving less money, running balances on credit cards.
Puri and Robinson examined data from the Fed's Survey of Consumer Finance to determine participants' statistical life expectancies. They compared participants' statistical and self-reported life expectancies, then categorized anyone who expected to live longer than the data predicted as an optimist. The top 5 percent, those who think they will live an average of 20 years longer than is statistically likely, were labeled "extreme optimists." The professors then studied the behaviors of people in both groups, as reported to the Fed.
Their results were reported in the October issue of the Journal of Financial Economics.
Tell a joke, but lay off the boss
For a more productive office, forget glaring bosses and co-workers who are buried in the books. To improve workplace performance, jump-start creativity, increase communication and office bonding, tell a joke or a funny story instead, said University of Missouri-Columbia management professor Chris Robert.
"For individuals who can produce or appreciate humor -- that seems to be associated with both intelligence and creativity," said Robert, who wrote a theoretical paper on humor in the workplace with graduate student Wan Yan.
Further, both the processes of sharing something funny and enjoying a story can boost co-workers' moods. And Robert's study suggests a strong link between mood and workplace performance and outcomes. Happier employees, he said, tend to have better communications skills and are less likely to quit.
Certain types of joking around, however, do not always carry across cultures, Robert warned.
"Most people in the U.S. can joke around, pick on their boss," he said. "In China, that would be much less socially accepted." Asian countries put much more emphasis on status differences, he said -- and American-style humor could upset those corporate hierarchies.
The study, "The Case for Developing New Research on Humor and Culture in Organizations: Toward a Higher Grade of Manure," was published in the August issue of Research in Personnel and Human Resources Management.
Here are tips for freelancers
Flexible hours, choosing one's own projects and being able to work in pajamas might seem appealing, but before deciding to join the rising number of temporary or self-employed American workers, make sure to plan for financial and emotional stability.
The Freelancers Union, a nonprofit organization, offers some tips for those wishing to strike out on their own, who now are about 31 percent of the work force, according to the U.S. Government Accountability Office.
» Get health insurance: If traditional individual insurance setups are too costly -- one provider's monthly cost ranged from about $130 per person to $1,000 per family -- consider joining a catastrophic medical insurance plan, which is intended to supplement regular insurance and often has low monthly payments.
» Save: Transfer a set amount of money into savings every month and set up an individual retirement plan.
» Don't forget taxes: Many freelancers and contractors get paid in a lump sum, but taxes still have to come from those paychecks. Research which deductibles apply to the self-employed or part-timers on the Internal Revenue Service's Web site.
» Meet others: Joining local professional associations and networking can be a good way to line up more offers and stay connected to people in the absence of a regular workplace.
---
BUSINESS PULSE