DO IT
Learn to craft soft-clay flowers
Are they real? They sure look real -- so real, in fact, you might feel compelled to take a class offered at Macy's Ala Moana this weekend, or at least to seek inspiration in the book "Clay Art for All Seasons" ($15.95), by Yukiko Miyai, published by Island Heritage. A sampling from the book is shown at right.
Miyai trained under her mother, Kazuko Miyai, who created Claycraft by Deco, and brought the art to Hawaii. Classes will be taught by both in Macy's special-events room on the third floor today through Monday.
Today
11 a.m. to noon: Tropical lau hala box
2 to 3 p.m.: Angel figurine
5 to 6 p.m.: Minirose arrangement
Tomorrow
11 a.m. to noon: Angel figurine
2 to 3 p.m.: Minirose arrangement
5 to 6 p.m.: Tropical lau hala box
Sunday
11 a.m. to noon: Minirose arrangement
Monday
11 a.m. to noon: Angel figurine
2 to 3 p.m.: Minirose arrangement
---
---
Plumeria
1. Roll white clay into five 1-inch-diameter balls.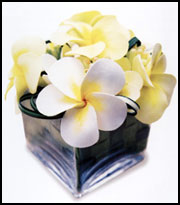 2. Use rounded base of your thumb to roll balls into a 1 3/4-inch-thin teardrops.
3. Use your palm to slightly flatten petals.
4. Place flattened teardrop on your index finger, small end facing down. Hold thinner part of petal, press wider part with round Deco detail stick. With pressure mainly on upper portion of petal, roll stick back and forth to spread out petal. Repeat with remaining petals.
Pressed side of petal is the inside surface.
5. Fan petals, overlapping each about two-thirds over previous petal.
6. Twist petals together at base by turning left side of fan inward, then gently open petals.
7. Turn base of flower with your left hand and pull on petal edges to create an outward curve on each petal.
8. Tear away any excess clay at base. Let dry completely before painting.
9. To paint, wet brush, mix acrylic paint, then pick up some color and add to center of flower. Dry brush with paper towel. Then, starting from center of flower, use brush to bring paint out to middle of petal.