| | |
| --- | --- |
| | Island Mele |
---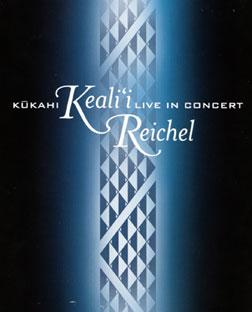 "Kukahi: Keali'i Reichel
Live In Concert"
Kealii Reichel
(Punahele Productions)
Kealii Reichel and his Punahele Productions ohana have been setting high standards for the local music industry ever since the release of his debut album, "Kawaipunahele," in 1994. Where many local labels would use synth-track strings in a recording session, Reichel and his producers would hire a string quartet; when many acts considered basic stage lighting sufficient for concerts, Reichel was experimenting with video clips and computer-controlled lighting sequences.
Reichel became one of the first Hawaiian artists to embrace video as a multimedia extension of the familiar album/CD when his label released a full-length concert video, "Kukahi '96." He and his ohana now take another significant step forward with this beautifully produced DVD.
It documents Reichel's concert last year in the Blaisdell Concert Hall, "Kukahi 2006: Kamahiwa." Although those fortunate enough to have seen the show may disagree, it is hard to imagine the overall experience of being there as any better than experiencing it through the eyes of director Dennis Mahaffay and his camera crew -- and as heard here in Dolby Digital 5.1 sound.
Reichel is in top form, displaying his impressive talents as a singer, chanter, guitarist, percussionist and dancer while presiding over the proceedings in his familiar and always engaging style. Informative narration is essential, and he skillfully shares just enough information to put each selection in its cultural context or give first-timers insight into the inspiration for such odd lyrics as "... no make noise la!" in "Ipo Lei Momi."
A major segment honors the cultural legacy of Na Lani Eha ("the Royal Four") -- Kalakaua, Liliuokalani, Leleiohoku and Likelike -- and features songs and chants composed by Leleiohoku or Liliuokalani, or written in their honor. It opens with "He Wehi No Liliuokalani I Ke Kapu," a chant that expresses unwavering support for Liliuokalani in her struggles during the 1893 overthrow.
Reichel follows it with a beautiful choral rendition of Leleiohoku's timeless song of farewell, "Adios Kealoha," then celebrates a different but equally popular tradition in Hawaiian music, the mele mai (song or chant honoring the genitals), with a song written about Leleiohoku, "Ko Mai Auka Kula La A Keu." Judged by audience reaction, the latter number was the most popular in the show.
Kalakaua is honored in another section with a stirring treatment of "Ia Oe E Ka La."
Guests are used sparingly, but kumu hula Kealii Ceballos adds pizzazz with solo hulas to "Pupu Ao Ewa" and "Ipo Lei Momi." Veteran pop artist Ben Vegas is backed by Reichel and Reichel's three vocalists for a romantic treatment of his 1995 vintage island hit, "Pua Nani."
The visual half of this audio/visual project is excellent. Director Mahaffay does a superb job capturing the performances of soloists, groups of musicians and halau units alike. No shots are wasted, and none suggest sloppy "better than nothing" camerawork. The occasional use of double-imaging and the smooth segues between stage performance and scenic footage perfectly enhance and embellish the work of Reichel, his musicians, dancers and guests.
Other features also make this a "must buy" for anyone interested in modern Hawaiian music. Students of Hawaiian language can activate a Hawaiian subtitles option and test their comprehension; others can activate the English subtitles and instantly get much more out of the performances than they would have sitting in the audience last fall.
A short "bonus" feature provides an overview of Reichel's career and footage of some of his Na Hoku Hanohano Award wins. A much longer segment, recorded in 2005 and directed by Edgy Lee, shows Reichel and other prominent hula figures performing with their teacher, the late Uncle George Holokai. It's an important documentation of Holokai's work as a singer, musician and teacher near the end of his life. It is also worth seeing simply as beautiful hula, capturing a slightly different side of Reichel as well.
Documentation is essential to any Hawaiian recording. At a time when many local DVDs still consist of nothing more than the disc and the shell, Reichel and his Punahele Production partners, Jim Linkner and Fred Krauss, include an illustrated booklet that contains more about the music, the show and the people who made this perfect DVD "album" possible.
John Berger
, who has covered the local entertainment scene since 1972, writes reviews of recordings produced by Hawaii artists. See the Star-Bulletin's Today section on Fridays for the latest reviews. Reach John Berger at
jberger@starbulletin.com
.