Catch fresh musical talent at 'Mai Tai Rumble'
NOW IN its seventh year, the Mai Tai Bar's "Mai Tai Rumble" is still one of the best ways to get a sneak preview of Honolulu's next generation of musical talent.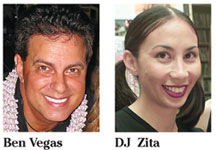 So it's always a treat when I'm invited to judge the competition. Earlier this week, I joined entertainer Ben Vegas and Anheuser-Busch Hawaii's Peggy Abella to help decide who would move on to the finals in December.
Local Uprising, So Vibe and Wai Nui won't impress many outside their target audience (i.e. college kids, and those who continue to live like them, looking to skank a bit while searching for that evening's hookup with the opposite sex), yet all three bands delivered enthusiastic performances.
In the end, it was obvious that winners Wai Nui had the most audience support, and the judges agreed.
What really got me excited, however, was the quality of bands in the Open Mic category. I'm familiar with Upstanding Youth, who won on Tuesday, but Mr. Band and Screeming Weener were welcome additions to my local rock radar.
The second round of the "Mai Tai Rumble" continues through November, with each week of competition followed by an "Aftershock" concert. Dubkonscious is next week's featured band, with O-Shen and Ooklah the Moc to follow on Nov. 20 and 27 ...
HIP-HOP and R&B are represented in a big way over the next week, with three big-name acts performing at Pipeline Cafe.
On Saturday, BAMP Project showcases its diverse booking skills with a concert by the Ying Yang Twins. On Sunday, DIG Lifestyles, Ankh Marketing, Kings Assembly and Hip-Hop.com take it to another lyrical level with Mos Def's third Pipeline appearance of 2007.
And coming up next Thursday, Big Ben Productions presents another old-school jam featuring K-Ci and JoJo. Hope you've got enough cash for tickets if you're planning to attend all three shows ...
WHILE NOT officially part of this year's Girl Fest calendar of events, there will be plenty of "grrrl power" on hand at the Hawaiian Hut this weekend.
Led by former Hawaii resident Kasi Nunes, X-Factor returns to Honolulu to headline an 18-and-over show on Saturday. Doors open at 9 p.m.
Local girl Paula Fuga is also scheduled to perform, along with New York trio Sidestreet Reny. Tickets are $17.50 at the door ...
MIXED MARTIAL arts returns to the Blaisdell Arena this weekend, as X-1 World Events presents "X-1: New Bloods" on Saturday.
Expect another long night of fights, with an eight-man, 140-pound grand prix tournament scheduled in addition to at least another half-dozen matchups. Among them: Mark Moreno vs. Chad Reiner, Ed Newalu vs. Kana Hyatt and "Dirty Curty" vs. Brennan Kamaka.
If that's not enough, live performances by Be-On Paradise, B.E.T. and Ooklah the Moc are also planned throughout the evening.
Doors open at 6 p.m. Friday; call 296-1027 for more info ...
MORE PICKS: "Pacific Standard" welcomes house superstar DJ Dan to NextDoor on Friday, with opening sets by DJs mr.nick and Willis Haltom. Want more? Check out the new "Soulgasm" weekly on Wednesdays at Lotus Soundbar ... After a top 10 debut on the Billboard World Chart last month, John Cruz is spending November on a statewide tour. He'll play Aloha Tower Marketplace's Events at the Tower at 7:30 p.m. Saturday, sandwiching that gig between visits to Kauai on Friday and the Big Island next weekend ... Former Hawaii resident DJ Zita returns from San Francisco for a pair of appearances next week. She'll guest at "Redda Fire" on Thursday, followed by a Sisters in Sound night at Lotus on Nov. 16 ...