WALDORF: PROPOSED EXPANSION CONTESTED
School sues residents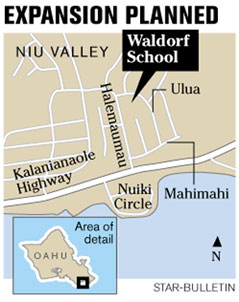 Honolulu Waldorf School has sued 20 Niu Valley residents who appealed the city administration's approval of the school's expansion to accommodate 100 high-schoolers.
The school also sued the city Zoning Board of Appeals and its chairman because no decision has been made for more than eight months.
The residents appealed the case to the board, which has been stymied in the case.
Three of the five zoning board members recused themselves due to conflicts of interest. With just two members left, the board is unable to reach a majority decision, necessary to decide the case.
One of those named in the suit, Marty Plotnick, a 25-year Niu Valley resident, said he felt betrayed.
"I felt insulted," he said. "I felt basically that these petitioners -- 20 of us -- were betrayed by Waldorf. We have been dealing with them ... in good faith."
Honolulu Waldorf School wanted to break ground this summer because the lease expires in 2010 for its high school in Kahala. It had plans to relocate it to the Niu Valley site, where 240 students attend preschool through eighth grade, situated in the middle of a residential neighborhood.
Plotnick said he and fellow resident and attorney Eric Seitz had to reassure others upset by the suit. Seitz is representing them for free.
Waldorf's attorney, Wil Yamamoto, said the school named the residents in the suit to prevent them from relitigating the matter individually.
The suit's purpose is to ask the court to determine how to move the zoning board process forward without a quorum, Yamamoto said.
"There's nothing that allows for substitution; we're stuck," Yamamoto said. "I believe the petitioners are happy with the situation."
City attorneys have suggested a rule change that would allow a provision to remedy this situation, but Waldorf cannot wait the three months or more it would take.
"It's threatening Waldorf's ability to continue with its project," Yamamoto said.
Yamamoto said the rule says that a failure to obtain a majority vote at two separate meetings would mean the appeal is automatically denied.
He insisted Waldorf is not trying to stop the residents' appeal, but said, "We can't wait that long."
Yamamoto said the only residents named in the lawsuit are those who appealed the city planners' decision, not the entire neighborhood.
Connie Starzynski, administrative director for Honolulu Waldorf School, said the school officials want their students, many of whom have started from kindergarten, to be able to continue through high school.
"We made it clear from the beginning we have no issue with preschool through eighth grade," Plotnick said. "The issue with us is that the community and the infrastructure cannot support a high school."
Plotnick added: "The school made a serious mistake in underestimating us, that we're a bunch of old fogeys and they would intimidate us. We're not intimidated. Instead, we got angry. How dare they try to take away our constitutional rights?"