---
FAST FACTS HAWAII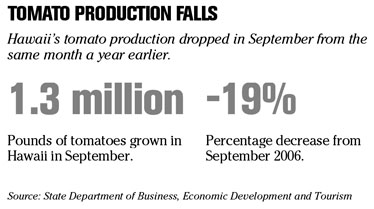 ---
HAWAII
A&B Valencia sales continue
A&B Properties Inc., the real estate subsidiary of
Alexander & Baldwin Inc.
has another of its Valencia, Calif., holdings for $6.9 million.
The company sold the Vista Controls Building, which it originally purchased in 2003 as part of a 1031 tax-deferred exchange, to Layton Belling Associates.
Earlier this year, A&B Properties sold three other Valencia shopping center parcels for $18.9 million.
"These sales optimize A&B's investment within a relatively short cycle and demonstrate that our business model of investments and joint venture commercial developments in southern California is bearing fruit, said Michael G. Wright, senior vice president for A&B Properties.
Chuck E. Cheese plans 3rd outlet
Chuck E. Cheese's Pizza
has signed a lease for another restaurant at Kapolei Town Square.
It will be Chuck E. Cheese's third location in the state, with the other two in Aina Haina and Pearl City.
The family-fun restaurant franchise has agreed to a 15-year lease for 10,300 square feet with MW Group Ltd., the developer of Kapolei Town Square.
The square, which is between Home Depot and Kmart, and near planned Target and Costco Wholesale stores, offers more than 100,000 square feet total and is expected to open in Fall 2009.
Chuck E. Cheese's franchise owner, Wayne K. Hayami, said Kapolei Town Square was an ideal location for its third outlet. Chuck E. Cheese's broker was Dean Hamada of Core Realty.
BRIEF CASE
Tasty results
Archer Daniels Midland Co., the nation's largest food processor, said yesterday its first-quarter profit rose a better-than-expected 9 percent on surging sales as a sharp improvement in oilseeds processing and other segments offset higher corn prices.
NEW HIRES / PROMOTIONS
» Hilton Hawaiian Village Beach Resort & Spa has announced the following promotions:
Selena Abdullah
has been named director of guest services. She will be responsible for the hotel's journey ambassadors and parking services. She previously served as housekeeping special projects manager and has more than 19 years of experience in the hospitality industry.
Linnea Kiyabu
has been named assistant front office manager. She previously served as guest service working supervisor and has more than four years of front office experience.
» The Bishop Museum has named David Mulinix as development manager. He previously served at the American Red Cross, Hawaii Habitat for Humanity and Olelo Community Television and has 25 years of non-profit fund development experience.
» Aqua Hotels & Resorts has hired William "Bill" Henderson as vice president of development. He will be responsible for responsible for acquiring properties for the company's Aqua Lite, Aqua Boutique and Aqua Elite brands. He previously served as immediate past vice president of business development for Outrigger Hotels & Resorts and most recently provided consulting services for the Ocean Network. He has more than 30 years of marketing and development experience and has also served in the U.S. Marine Corps as captain of infantry and intelligence.
» Aloha Pacific Federal Credit Union has hired Malcolm S.H. Inamine as human resources manager. He will oversee recruitment, hiring and training of new employees; implementation and administration of policies and benefits; and employee relations. He previously served as area human resources manager for Best Buy Hawaii, and has also served in human resources management for The Home Depot and Waikiki Trader Group.
» Kober Hanssen Mitchell Architects has appointed Noel Bautista to its production staff. He will compile construction documents for the firm's clients. He has extensive experience in construction, excavation, carpentry wood framing and home renovation.
---
BUSINESS PULSE