---
FAST FACTS HAWAII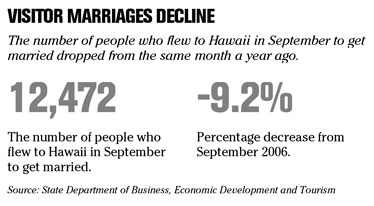 ---
NATION
Banana workers awarded $3.3M
LOS ANGELES » A jury awarded $3.3 million yesterday to six workers who claimed they were left sterile by a pesticide used at a banana plantation in Nicaragua operated by
Dole Fresh Fruit Co.
The workers' lawsuit accused Dole and Standard Fruit Co., now part of Dole, of negligence and fraudulent concealment while using the pesticide DBCP in the 1970s. The chemical was used to kill microscopic worms on the roots of the banana plants.
The suit also alleged that Dow Chemical Co. and Amvac Chemical Corp., manufacturers of the pesticide, knew it could leave workers sterile and kept that information secret
Richard Parsons to step aside
NEW YORK » Richard Parsons will depart as CEO of
Time Warner Inc.
at the end of the year, five years after taking the helm of the world's largest media conglomerate and rebuilding its stature following a disastrous merger with AOL.
Parsons, who attended the University of Hawaii in the 1960s, will be replaced by the 55-year-old Jeff Bewkes, a former head of HBO and currently the chief operating officer, the company said yesterday.
Bewkes was long being groomed to succeed Parsons, 59, who will stay on as chairman.
Parsons has a contract that runs through next May, but he had been widely expected to hand over power before then to Bewkes.
Citigroup sees $8B-$11B losses
NEW YORK » As
Citigroup Inc.
announced Chief Executive Charles Prince's widely expected departure yesterday, it also estimated it would take additional losses of $8 billion to $11 billion.
In the third quarter, it already took a hit of $6.5 billion in asset markdowns and other credit-related losses. And yesterday, Citigroup revised down its results for that quarter by $166 million, after correcting the value of the company's exposure to complex instruments called collateralized debt obligations.
Citigroup, in a filing with the U.S. Securities and Exchange Commission, says it earned $2.21 billion in the third quarter, or 44 cents per share.
BRIEF CASE
High hopes
Hours after PetroChina shares almost tripled in value on their first day of trading in Shanghai, they slumped 13 percent in New York after a big investment bank said the stock was overvalued. China's biggest oil and gas company -- the publicly listed unit of state-owned China National Petroleum Corp. -- became the world's first firm with a $1 trillion market capitalization.
Back in service
Casino operator Harrah's Entertainment Inc. has reopened 501 of 667 guest rooms at its Harrah's Las Vegas property that had been taken out of service to complete overdue inspections by county officials, the company said.
---
BUSINESS PULSE