---
FAST FACTS HAWAII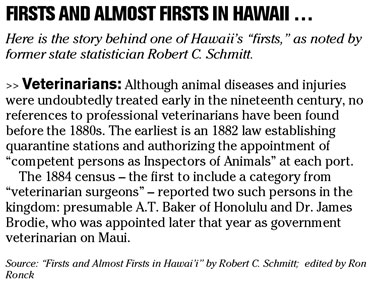 ---
NATION
Stores temper holiday hiring
NEW YORK » As the economy slows and consumer spending shrinks, so do holiday jobs at the nation's stores.
"It's inevitable that (holiday) sales are going to be rocky, and retailers are prepared for that," said John A. Challenger, chief executive officer of Challenger, Gray & Christmas, a global outplacement consultancy.
Challenger estimated that retailers will hire a total of 650,000 new holiday hires in the November-December period, down from 721,200 a year-ago.
Craig Rowley, vice president for retail for consulting firm Hay Group, said that based on a poll of 20 major retailers conducted in September, 26 percent of those surveyed said they plan to hire fewer workers than a year ago. But Rowley says that deteriorating sales in recent weeks may push that up to 35 percent.
Only 15 percent of those polled said they plan to hire more workers than a year ago.
Free shipping remains big lure
NEW YORK » The expectation of sluggish holiday sales this year could mean a free shipping bonanza for shoppers.
According to a survey conducted for Shop.org, an arm of the National Retail Federation, 41.4 percent of those polled said that they will be offering free shipping with no conditions, compared to 36 percent in the year-ago period. Those offering free shipping with some sort of conditions has declined to 78.6 percent from 82.7 percent a year ago. About 60 percent of those surveyed said they will offer free shipping upgrades compared to 49.3 percent a year ago.
"Free shipping offers drive online sales more than any other promotion, which is why they remain popular with retailers," said Scott Silverman, executive director of Shop.org.
The study, conducted by BizRate Research, a Shopzilla company, for Shop.org, surveyed 2,695 online buyers -- defined as anyone who has made an online purchase in the past 12 months -- and 116 online retailers from Sept. 26-Oct. 8.
Midnight openings more popular
NEW YORK » Hitting the malls could be a good way to work off that Thanksgiving dinner. Based on past success, mall operators and stores are expanding midnight openings on the day after Thanksgiving to help shoppers get a heads up on their Christmas list.
General Growth Properties Inc., the nation's second-largest owner, developer and manager of regional shopping centers, said that 12 of its 200 malls will open at midnight on the day after Thanksgiving. That's up from seven a year ago.While the day after Thanksgiving officially starts the holiday shopping season, it is no longer the busiest shopping day. That honor has typically fallen to the Saturday before Christmas.
Still, Black Friday -- named because it was traditionally when stores became profitable -- still sets an important tone for the rest of the season. What consumers find for deals and service influences where they will shop for the rest of the season.
Many workers 'not engaged'
As the market shimmies and shakes with fears of impending recession, corporations start looking to cut costs -- including employees. In the past few months, for instance,
Bank of America
,
Countrywide
and
Boston Scientific
have announced plans to fire thousands of American workers.
American workers, hardened by more than 20 years of mass layoffs, are more likely today to be victims of a "psychological recession," according to Judith Bardwick, an expert on workplace psychology. Many workers today feel they are living in a chaotic world of job insecurity, she says in her book, "One Foot Out the Door."
Relying on questionnaire data, primarily from 1998 to 2005, she claims those workers are no longer committed to their companies or their work responsibilities.
"On average, 80 percent of the people in many companies are not engaged in the work that they do," she said, citing a Gallup poll of 12.5 million people from 2003 to 2005. "Uninvolved people take no interest in their work -- they do just enough not to get fired and are content to keep doing the same thing over and over."
To shore up employee motivation and investment in the corporation, management should work to build trust with its work force and be open to ideas issuing from the rank and file, she said.
---
BUSINESS PULSE