| | |
| --- | --- |
| | Island Mele |
---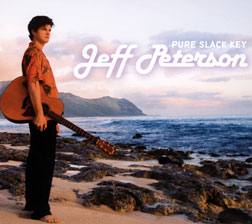 "Pure Slack Key"
Jeff Peterson
(Peterson Productions)
The title describes the contents of Jeff Peterson's new album perfectly, and the contents are perfect as well. The title should help next year's Grammy voters recognize it as an award-worthy celebration of Hawaii's unique ki ho'alu tradition. After all, Peterson's artistry contributed to the success of "Slack Key Guitar, Volume 2," the first Hawaiian album to win the Best Hawaiian Music Album Grammy. His work here is better, not only displaying his technical skill, but also showing off his imagination as an arranger and composer.
Peterson introduces himself with original versions of five well-known Hawaiian melodies. His arrangements of "Koke'e" and "Puamana" catch the ear and establish him as someone worth hearing. Both songs have been recorded enough times -- by their composers and many other artists -- that it is easy to recognize and appreciate the variations Peterson explores in doing them his way. "Kaimana Hila" and "Wai'alae" stand out later in the set for similar reasons.
Peterson waits until the middle of the album to slip an original melody into the set list. Slack key is more about instrumental technique than composition, and Peterson uses his pieces to bridge his Hawaiian slack-key roots and his formal academic training as a classical acoustic guitarist. There's a definite ki ho'alu ambiance to the aptly titled "Almost Home," while "Haiku" reflects the cosmopolitan influences of his formal training.
---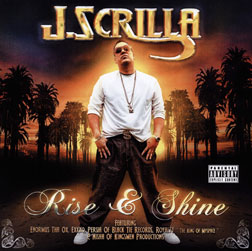 "Rise & Shine"
J. Scrilla
(GMG Music)
Hawaii expatriate J. Scrilla (also known as J-Scrills and Mr. Money) steps forward out of the Bay Area with this collection of hard-hitting rap and hip-hop originals. Bossalino Mode Lokz and Greg-G aka The General are key members of the production team as Scrills holds forth on his life experiences and personal philosophy.
On one song he recalls surviving his hard-knocks life as a teenager on the street ("I got my jaw broken, y'all, when I was just 17. I had them wires on 24/7, G, but you still saw me on the block hustling and grinding"). Others describe his current Alpha Male status.
Scrills and his crew distinguish themselves with "The Story." It's an imaginative and well-crafted piece that starts off sounding like a vintage LL Cool J love song, but turns out to be a heartfelt ode to a player's one true love: money. It opens romantically with "Theme From 'Love Story'" and Scrills' sheepish confession that "I can't believe I'm saying this but your boy's in love," then morphs into a witty celebration of coldblooded materialism -- "My love for money is completely unconditional ... They say then money can't buy happiness, then I'll be satisfied with a mansion and a Benz ... give me a billion dollars, I don't need no friends."
Yes, he also shows a softer side with a conventional love song or two, and there is also a low-key comic track ("Justin Intermission"). He also refers to his Hawaii roots, describing his birthplace as "just a little to the left of the city of L.A.," and responds to recent events with rhyming references to Paris Hilton, Kelly Clarkson, Britney Spears and "Mike Vick and his pits."
In short, the local ties are tenuous, but Scrills is representing Hawaii well.
---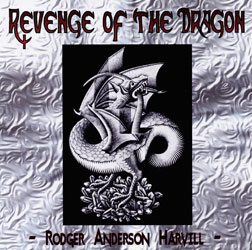 "Revenge of the Dragon"
Rodger Anderson Harvill
(R.A. Harvill)
Big Island guitarist/songwriter Rodger Anderson Harvill introduced himself with "Year of the Dragon" in 2001 and followed it with "Return of the Dragon" three years later. "Revenge" is more of the same. Fans will welcome this self-produced addition to the series.
As a studio artist Harvill is a one-man rock band who plays guitars and bass, sings and uses drum-programming gear to add the other essential component of the rhythm section. Technology has come a long way since drum programming reached the islands, and Harvill's "drums" pass muster on this labor of love.
As with his previous albums, a majority of Harvill's compositions are guitar-rock instrumentals. Some have a blues edge and suggest a fondness for Jimi Hendrix's classic electric blues recordings. Others are timeless classic-rock melodies.
Harvill also follows the format he established with his previous releases by including a song that displays his strength as a raw rock 'n' blues vocalist.
John Berger
, who has covered the local entertainment scene since 1972, writes reviews of recordings produced by Hawaii artists. See the Star-Bulletin's Today section on Fridays for the latest reviews. Reach John Berger at
jberger@starbulletin.com
.