---
FAST FACTS HAWAII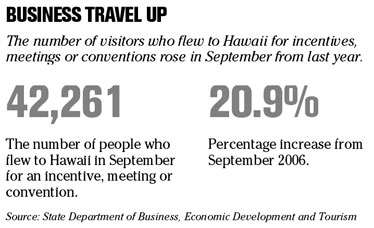 ---
HAWAII
Office Max plans Lahaina store
Office Max
has signed a lease for 18,000 square feet at the Lahaina Gateway Center on Maui.
It will be the second Office Max retail store on Maui and the first to serve West Maui. The other store is in the Maui Marketplace in Kahului.
The Lahaina store is to open in the first quarter of next year. Lahaina Gateway, developed by Bilarjo Development LLC, has 137,000 square feet of leasable space and is about 80 percent leased, with the first stores to open next month. CB Richard Ellis is the leasing agent.
BRIEF CASE
CHANGING LANES
General Motors and its Asian rivals posted U.S. sales increases in October while Toyota continued its drive to replace Ford as the No. 2 U.S. automaker, according to data released yesterday.
LOOKING AHEAD
Video-game publisher Electronic Arts Inc. swung to a fiscal second-quarter net loss, hurt by an accounting change, but shares climbed 5 percent after the company outlined a promising product lineup and said it expected a "great" holiday season.
COLLUSION ALLEGED
The state of New York accused First American Corp. unit eAppraiseIT of caving in to pressure from Washington Mutual Inc. to use a list of appraisers who would inflate home prices.
DEAL REACHED
Kroger Co. reaches a tentative agreement with a union representing nearly 11,000 workers in the Cincinnati region, avoiding a last-minute strike in the home of the nation's largest traditional grocer.
[ HAWAII INC. ]
NEW HIRES / PROMOTIONS
» Pleasant Holidays has promoted Duke Ah Moo to vice president of product development and partner relations from staff vice president of Hawaii operations. He will be responsible for leading the company's product and supplier initiatives for Hawaii, Nevada and Mexico. He has served the company for more than 12 years.
» Prudential Locations has hired Erin Shaw as marketing coordinator. She will be responsible for planning and executing new marketing initiatives for agents, and developing customized plans for promoting their property listings. She previously served as marketing coordinator for Brookfield Homes Hawaii.
» Team Vision has hired Marc Ebalaroza as Web designer. He will be responsible for providing Web creative and development services. He previously served as creative director for Digital Mediums, and IT specialist and computer technician at Impact Solutions. He has more than 10 years of design and implementation experience.
» Hagadone Printing Co. has announced the following new hires and promotions: Richard Araiza has been hired as director of mailing. He has 13 years of experience in the printing industry. Myah Ely has been hired as sustainability coordinator. She is a newcomer to the printing industry as a Hawaii Pacific University graduate in environmental studies with a certificate of environmental policy, and is an active member of several environmental organizations. Michael Polley has been hired as sales consultant. He previously served as vice president of sales at General Printing and sales manager at Professional Image. Mark Larson has been hired as plant manager. He has 26 years of experience in printing press operations. Eric Manongdo has been promoted to customer service representative. He previously served in the company's bindery and imaging departments. Matthew Schulze has been promoted to junior sales executive from customer service representative. He has served the company since March.
» » Hawaiian Airlines has announced the following new hire and promotion: Mark Arimoto has been named assistant general counsel. He will be responsible for day-to-day legal issues including contract law, securities filings and government regulations. He previously served as a securities litigation attorney at Bingham McCuthchen's Boston and Los Angeles offices for three years. Gary McKoy has been promoted to senior manager-Pacific region from station manager of Sydney operations. He will oversee all flight operations serving Sydney, Australia, Pago Pago, American Samoa and Papaete, Tahiti. He has served the company for 17 years.
» The Hawaii Theatre Center has announce the following new hires: Joshua Czarda has been hired as associate development director. He is the founder and owner of Ravenchase Adventures and has also served as a policy analyst and assistant director of policy compliance for the United Network for Organ Sharing. Vicki Borges has been hired as office manager. She previously served as executive assistant and office manager for Innovative Technical Solutions and as an executive assistant for The Resort Group. She has also served the City & County of Honolulu for nearly ten years and has more than 10 years of experience in the local public relations field.
---
BUSINESS PULSE