---
[ KEY INGREDIENT ]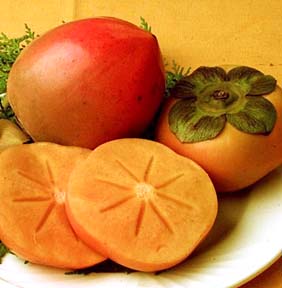 It's high season for persimmons, the burnt-orange fruit of fall
With their burnt-orange skin tone, persimmons are the fruit of fall.
We're in the midst of the high season for the persimmon, which should be easy to find in supermarkets and farmers' markets at least through December.
The two common varieties are the crunchy, tomato-shaped fuyu, and the more astringent hachiya, shaped like an oversized acorn. Both are imported from California farms.
The Maui-grown kaki variety is similar to the fuyu, but the flesh is marked with brown spots of natural sugar. The fruit is sold at the Kapiolani Community College Saturday Farmers' Market and in some Don Quijote and Foodland stores. Or call the Hashimoto Persimmon Farm in Kula at (808) 878-1461 to pick up an order.
Fuyu and kaki persimmons can be eaten raw, like apples, while the softer hachiya is commonly used for baking in cookies, muffins, quick breads and puddings. Persimmons also make a nice, fresh Thanksgiving centerpiece, especially when combined with fresh cranberries.
---
[ MORSELS ]
3660 on the Rise chef holds demo
Chef Russell Siu of 3660 on the Rise hosts a cooking demonstration at noon Saturday at Macy's Ala Moana.
Siu will prepare Ginger Crusted Island Fish with Plum Chili Sauce, his recipe featured in the new cookbook "What Hawaii Likes to Eat" by Star-Bulletin features editor and food columnist Betty Shimabukuro and veteran cookbook author Muriel Miura.
A book signing with Shimabukuro will follow.
The free demonstration will take place in Macy's fourth-floor demonstration kitchen. Call 945-5894.
More signings in November for "What Hawaii Likes to Eat" (Mutual Publishing, $28.95):
Nov. 10: Noon, Barnes & Noble Kahala Mall
Nov. 17: Noon, Borders Pearlridge; 2 p.m. Borders Windward Mall
Nov. 24: Noon, Borders Waikele; 2 p.m. Borders Ward Centre
A dollar from each book sold is donated in the name of the Star-Bulletin to the American Heart Association's Hawaii chapter.
Seminar focuses on fast food
No matter how carefully you choose your food, sometimes fast food is inevitable.
In her Nov. 10 seminar, "Fast Foods and Fitness," Sunny Massad explains the positive food choices that are possible even at the drive-through. Chicken soft taco or plain bean burrito -- 300 calories. Beef burrito with rice, beans, cheese and salsa -- 1,120 calories and 35 grams of fat.
Massad, a Weight Watchers member, will explain what types of junk food and sweets provide energy and nutrition without excess calories and fat, and will share recipes for homemade snacks.
The seminar takes place from 1 to 4 p.m. at the Hawaii Wellness Retreat House, 3670 Kalihi St.
Tuition is $50; registration required four days in advance, call 848-5544.
Kailua imu ready for turkey day
Kailua High School reopens its imu for the annual cooking of the Thanksgiving turkeys.
The below-ground cooking takes place Nov. 21, but space is limited, so reservations are being taken now.
How it works: Bring your defrosted turkey or other foods (pork roasts, sweet potatoes, luau leaves and taro also do well in the imu) in a foil tray sealed in foil, up to 25 pounds. For $15 per tray, you'll get a spot in the imu and the next day you pick up your luau-ready meal.
The imu cooking benefits the school's athletic program. Drop-off is 3 to 4:30 p.m. Nov. 21 on campus; pickup is from 8 to 9:30 a.m. Nov. 22.
Send checks payable to Kailua High School, 451 Ulumanu Drive, Kailua 96734. Write "Attention Mel Imai -- IMU" in the lower left corner of the envelope. Include a self-addressed, stamped envelope for your confirmation ticket. Include your phone number.
Call 266-7910 or 728-7389.
Class will cover easy fall recipes
Chef Leslie Ashburn teaches how to use fall ingredients in easy, healthful ways in a class, "Fast and Easy Fall Favorites," 1 to 5 p.m. Nov. 10 at Kapiolani Community College.
Cost is $48. Call 734-9211.
---
[ DA KINE ]
TOP TIKI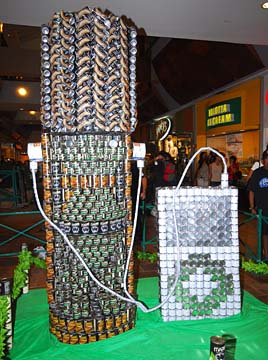 Give some candy to our troops
Do your kids really need all that candy?
After the trick-or-treating tonight, consider having them trade in some of that excess candy at Dr. Wilfred Miyasaki's dental office, 1139 Bethel St., from 8 a.m. to 1 p.m. Saturday.
Miyasaki will pay $1 a pound for the candy, which will be sent -- along with toothbrushes -- to U.S. troops overseas.
The dentist suggests letting kids eat some of their favorites and turn in the rest, rather than let it do further cavity-producing damage.
Call 533-0000 or visit www.dentisthonolulu.com.
Olympia Dukakis cancels UH dates
Actress Olympia Dukakis' appearances in Honolulu next month have been canceled.
The University of Hawaii's Outreach College had planned to host a public talk with Dukakis on Nov. 16 and an acting master class on Nov. 17 and 18.
Both have been canceled because of Dukakis' husband's illness.
Ball booked at the Sheraton
"Star-Crossed Lovers" is the theme of this year's Opera Ball, Nov. 10 at the Sheraton Waikiki.
The black-tie fundraiser will include a sampling of Hawaii Opera Theatre's 2008 season, an open martini bar and silent auction featuring ruby and diamond earrings, a New Zealand travel package and a Hiroki Morinoue painting. A drawing will be held for a Chanel diamond ring.
Tickets are $350; tables range from $3,500 to $15,000. Call Nikki Nielsen at 596-7372, ext. 14, or e-mail n_nielsen@hawaiiopera.org.
Motorola offers cell phone prize
One Hawaii student will win a Motorola cell phone and service for a year in the 2007 Teen Video Challenge.
Contestants are asked to create a 30-second commercial that answers one of these questions: What makes Mobi unique? or What do you like best about Mobi?
Entries must be produced on CD or DVD format, no more than 30 seconds. Deadline is 5 p.m. Dec. 28.
Mail entry forms and commercials to: Mobi PCS, care of Marketing Department, Pacific Guardian Center Makai Tower, 733 Bishop St., Suite 230, Honolulu 96813 or deliver them to a Mobi retail store.
Visit www.mobipcs.com for store locations.