Hawaii quarterly car sales continue slowdown
An industry group says sales won't start to recover until 2009
The already sluggish pace of car sales in Hawaii got even slower in the third quarter, falling 13.9 percent compared to a year earlier, according to data released yesterday.
The latest report by the Hawaii Automobile Dealers Association blames the worsening slump on increased uncertainty about the economy in the third quarter, which saw a global credit crunch and the collapse of the subprime mortgage market.
A smaller drop in sales is expected in the fourth quarter, the report said.
New vehicle registrations this year are projected to fall to 60,153, a 10.5 percent decline from 2006.
The association is forecasting a lesser decline, 3.6 percent, for 2008, with recovery expected in 2009 and 2010.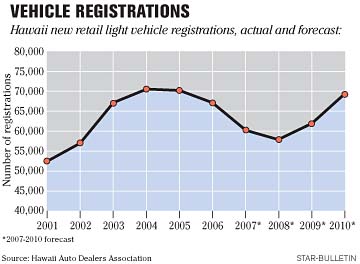 ---
"The number one concern for new vehicle sales is elevated consumer debt levels," the report said. "The excesses that abounded in the mortgage market were a direct consequence of households that were stretched too far."
Sales have remained flat at BMW of Honolulu in large part because the affluent consumer has more disposable income, said Dennis Short, company president and general manager.
"However, the consumer now thinks twice or three to four times before making a purchase, whereas during the days of booming real estate they would have disposable cash and were more able to make a purchase based on instant gratification," he said.
Mark Caliri, president of McKenna Windward Ford in Kailua, said the car sales have been sliding for the past couple years and that an uptick in the cyclical business is expected next spring.
"We were having record-breaking years in 2003 and 2004," Caliri said. "Even though other negative factors are there, the cyclical nature of the business is positive because we're at the tail end of it."