---
FAST FACTS HAWAII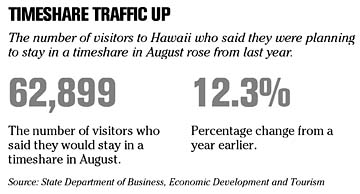 ---
HAWAII
Waikiki Resort in labor pact Unite Here! Local 5 and the Waikiki Resort Hotel have reached tentative agreement on a new contract for the 100 union members that work at the 296-room property.
Workers are slated to vote on the new contract, which is patterned after union contracts already in place at other Waikiki properties, on Nov. 8. Negotiations, which began earlier this year, ended last week with an agreement that resolved sticking points concerning housekeeping workload, preservation of medical and retiree benefits, and wage increases.
The union regards the Waikiki Resort Hotel deal as a coup because the property is owned by Hanjin International Corp., owner of the Wilshire Grand Hotel in Los Angeles -- where in recent years, union members have said a bitter labor dispute has been in play.
Pacific Beach rehires more
Pacific Beach Corp.
, an affiliate of
HTH Corp.
, has offered as of yesterday to rehire 400 workers and 50 managers when it takes over management of the 535-employee hotel.
Earlier in the year hotel workers and managers were told that they would be laid off following the Dec. 1 management change at the property and that they would have to reapply for jobs. HTH Corp. has not released a final employee count, but is extending offers only to employees that have chosen to reapply for jobs.
Pacific Beach will continue to evaluate applications for all positions at the Pacific Beach Hotel, said Robert Minicola, regional vice president of operations for HTH Corp.
NATION
MGM Mirage 3rd-quarter profit up LAS VEGAS» MGM Mirage's third-quarter profit rose 18 percent as the world's second-largest casino company notched higher sales from its restaurants and other businesses outside gaming, and drew income from hurricane insurance recoveries.
Earnings rose to $183.9 million, or 62 cents per share, compared with $156.3 million, or 54 cents per share, in the prior-year period. The company received an additional $92 million of insurance recoveries related to Hurricane Katrina during the quarter. Quarterly revenue rose 6 percent to $1.90 billion.
BRIEF CASE
BATTERY CHARGES
: A massive cell-phone battery recall helped drive down the profit of Matsushita Electric Industrial Co., maker of Panasonic products, by 17 percent to $573.8 million in the second quarter, even as sales edged up 1 percent to a record $19.93 billion.
APPLEBEE'S FOR BREAKFAST: Shareholders of Applebee's International Inc. yesterday approved a $1.9 billion offer by pancake house operator IHOP Corp. to buy the casual dining chain. The sale is to close by Nov. 29.
[ HAWAII INC. ]
New hires / Promotions
» Castle & Cooke has hired
Elarka Yuen
as broker-in-charge for the company's Island of Lanai Properties division. She will negotiate and arrange real estate transactions and assist principal broker Sue Murray in broker functions and company activities. She previously served as a sales representative for Castle & Cooke Homes Hawaii at Lalea, Hawaii Kai and Mililani residential communities. She has also served as a sales manager for Brookfield Homes Hawaii and has more than 30 years of experience in real estate.
» Island Insurance Co. has named Randy Baldemor as assistant vice president of claims. He will be responsible for special projects, conducting legal research, serving on the executive file review committee and recommending changes to company policies and practices. He previously served as a litigation partner with Goodsill Anderson Quinn & Stifel.
» JW Marriot Ihilani Resort & Spa at Ko Olina has named Dan Reid as director of event management. He will oversee all events at the resort including the Pavilion at Ihilani, and all weddings held at the resort. He previously served as director of event planning at the JW Marriott Desert Ridge in Phoenix, Arizona and Marriott Harbor Beach in Fort Lauderdale, Fla., and as assistant director of catering sales at JW Marriott Desert Springs in Palm Desert, California. He has 28 years of experience in the hospitality industry.
---
BUSINESS PULSE