---
FAST FACTS HAWAII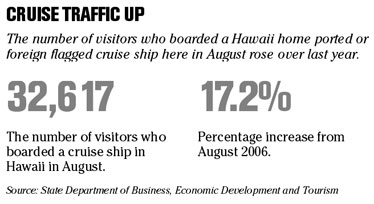 ---
HAWAII
Kauai condo units fetch $76M
The sales agent for Koloa Landing at Poipu Beach on Kauai says it sold $76 million worth of units in the a 25-acre luxury resort project's first phase over the weekend.
S&P Destination Properties says 51 two-, three- and four-bedroom condominiums were sold at an average price of $1.5 million, drawing buyers from Hawaii, California, Utah and western Canada.
A total of 129 units were offered in the first phase of the project, the first large oceanside development on Kauai since 1990. It is expected to offer 323 suites total.
Kent England, president of developer Poipu Beach Villas LLC, said construction is to begin in early 2008.
NATION
NWA posts profit in quarter
MINNEAPOLIS »
Northwest Airlines Corp.
said it swung to a profit in the third quarter as it kept fuel and other costs under control and moved on from its bankruptcy restructuring.
Net income for the three months ended Sept. 30 was $244 million, or 93 cents per share, compared with a loss of $1.18 billion, or $13.50 per share, during the same period a year earlier. Revenue dipped to $3.38 billion, down slightly from $3.41 billion a year ago.
The airline said it spent an average of $2.11 per gallon on fuel before taxes and some hedging gains, down 1.5 percent from a year ago.
GM plans research in China
BEIJING »
General Motors Corp.
said yesterday it will set up a $250 million alternative-fuel research center in Shanghai amid efforts by global automakers to produce commercially viable alternatives to gasoline engines.
Wagoner said GM picked China for the research center because of its fast-growing vehicle market, large pool of talented researchers and the communist government's push to develop alternative energy sources.
Construction of the first phase of the General Motors Center for Advanced Science and Research in Shanghai is due to be completed late next year, Wagoner said.
BRIEF CASE
Accounting hit
The electronics company Toshiba reported a 28 percent drop in its second quarter profit yesterday, partly because of one-time expenses for property value calculations and plunging television prices that offset solid sales in computers and chips.
Tax charges
Verizon Communications Inc., the nation's second largest telecommunications company, yesterday reported third-quarter earnings fell by a third from a year ago due to tax charges.
---
BUSINESS PULSE