---
FAST FACTS HAWAII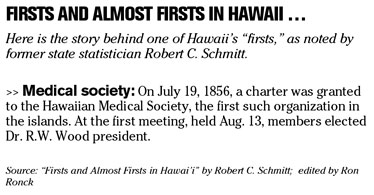 ---
NATION
Online holiday sales likely to rise
NEW YORK » The nation's consumers are expected to spend $33 billion this holiday season, up 21 percent from a year ago as shoppers are more likely to spend across all categories, according to
Forrester Research
, an Internet research firm.
The growth is slightly slower than the 23 percent pace seen in the 2006 holiday season reflecting the maturing of Web shopping. Forrester tracks holiday sales from Thanksgiving to Dec. 25. But Sucharita Mulpuru, analyst at Forrester, believes that online retailers will win in the fight for consumers.
"Even though consumers may be cutting back on overall spending, they will be spending a little more on the Web," Mulpuru said. "The whole package makes it an appealing destination."
She added that with online shopping, consumers can get good discounts without fighting the crowds. Free shipping has also been a lure.
Brick-and-mortar retailers nervous
NEW YORK » After struggling with slower-than-expected September sales, the nation's stores are now weighing whether to trim already lean holiday orders.
Any major cutbacks could hurt manufacturers but help shoppers who could see discounted holiday leftovers pop up at off-price outlets.
Retail consultant Burt Flickinger III believes that stores will reduce orders by 3 to 5 percent in the next few weeks, with the biggest cuts wielded by apparel sellers.
"This is something we are watching pretty closely," said Dan Hess, founder and CEO of Merchant Forecast, a research company. "If there are cutbacks across the board, then these guys are really skittish."
Roseanne Cumella, senior vice president of merchandising at the Doneger Group, a New York-based buying office, expects that major department stores are more likely to trim orders than specialty stores because it's harder for them to react to weather trends.
Not all decaf coffee is really decaf
Still feeling that buzz? Caffeine-phobes, beware: A recent Consumer Reports unscientific experiment near its headquarters in Yonkers, N.Y., found that while most of the local coffee-serving chains' decaffeinated offerings were practically caffeine-free, others racked up significant amounts of the stimulant.
One Dunkin' Donuts outlet's small cup of decaffeinated coffee delivered 32 milligrams of the energizer. That means two small servings had almost as much caffeine as a normal cup of coffee, which usually has 100 milligrams, according to Consumer Reports. McDonald's, on the other had, did best at keeping decaf caffeine-light, at under 5 milligrams per small-sized cup.
The U.S. Department of Agriculture lists a 12-ounce serving of decaf as having 4 milligrams of caffeine.
The experiment, included in the November 2007 issue of Consumer Reports, tested six 10- or 12-ounce cups of decaf coffee each from Yonkers locations of six popular national chains.
Prepare to enjoy your vacation
For anyone planning to squeeze in a vacation before the end of the year, preparation can be the key to a relaxing break.
Prepping for your departure can spell the difference between a restorative respite and a harried holiday, according to organizing and time management expert Julie Morgenstern. She offers the following tips for unplugging from the office:
» Let co-workers know a few weeks ahead of time that you'll be away, and ask if there's any tasks that need to be completed before you leave. That allows your colleagues to gear up for your departure while preventing last-minute projects from getting dumped in your lap.
» Visit a resort or stay at a hotel chain you have had enjoyed in the past. If you have only a week or two to unwind, you want to avoid unexpected complications, Morgenstern said.
» Consider breaking up your vacation days into several long weekends, rather than a two-week break once a year. You should be able to arrange for full coverage of your duties, which allows you to handle work only in case of an emergency. Plus, returning to the job will be easier without the loss of momentum that often follows a longer vacation.
"You can keep your finger on the pulse of things," Morgenstern said.
---
BUSINESS PULSE