Hawaii's
Back Yard



---
Tales from history guide walking tour
It sounds like the perfect plot for a soap opera: A high-ranking government official and military officer pursues numerous extramarital relationships. His blue-blooded wife knows her husband is philandering, which causes her great pain. The man has an affair with a beautiful young woman who bears his son -- no small indiscretion, for the girl is one of his wife's attendants and also is married. Ever gracious, the wife not only acknowledges the boy, but loves and supports him as if he were her own.
Capitol District Walking Tour
» Meet at: Mission Houses Museum, 553 S. King St.

» Time: 10 a.m. to noon second Saturday each month; next dates are Nov. 10 and Dec. 8

» Cost: $20 general public, $10 for Mission Houses Museum members, free for ages 12 and under

» Call: 531-0481, ext. 707. Tour limited to 30 people, so reservations are encouraged.

» E-mail: kraquedan@missionhouses.org

» On the Net: www.missionhouses.org
On the Capitol District Walking Tour, scheduled for the second Saturday of each month, Nanette Napoleon brings key figures from Hawaiian history to life through such intriguing, little-known tales.
The central characters in this story are John Owen Dominis, lieutenant general in King Kalakaua's army, commissioner of crown lands and governor of Oahu, and his wife, Liliuokalani, who ascended the throne in 1891 as the last reigning monarch of Hawaii.
According to Helena Allen's book "The Betrayal of Liliuokalani: Last Queen of Hawaii, 1838-1917," Dr. George Trousseau, the royal family's physician, had the unpleasant task of informing the then-princess in November 1882 that one of her retainers was soon to give birth to a child fathered by her husband.
"At first, Liliuokalani thought she and John should declare the child was theirs," said Napoleon. "That would have established an heir to the throne, but, of course, it would have been illegal."
As it turned out, when the boy was born on Jan. 9, 1883, his mother gave him to her 53-year-old hanai (adopted) mother, who claimed him as hers. Christened John Dominis Aimoku, he carried the surname of his mother, but it was Liliuokalani who paid for all his needs.
In 1910, at the age of 27, young John told Liliuokalani that he was in love with Sybil McInerny, the daughter of a prominent Honolulu merchant, and wanted to marry her.
Upon hearing that news, Liliuokalani decided to officially adopt him and change his name to John Aimoku Dominis. She did so that May, 19 years after her husband's death.
"Her motive for doing this is debatable," said Napoleon. "My guess is that she finally decided to formally recognize his lineage, although it was certainly common knowledge."
Mission Houses Museum launched the two-hour Capitol District Walking Tour in June to "connect 19th-century missionary history with the broader history of Hawaii," said David de la Torre, its executive director. "It fits perfectly with our current emphasis on offering engaging new programs for the public. It's important for us to explain the historic and architectural context of our own site, which is a National Historic Landmark."
---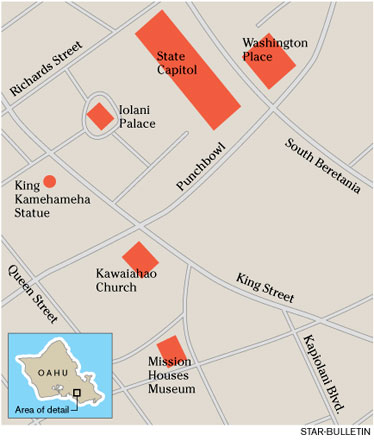 ---
ALTHOUGH THE tour's route is less than a mile long, it covers several centuries of Hawaiian history, from pre-Western contact times to today. Stops are made at six downtown Honolulu landmarks -- Mission Houses Museum, Kawaiaha'o Church and Cemetery, the King Kamehameha statue, Iolani Palace, Washington Place and the state Capitol.
Napoleon is a native Hawaiian who has been researching Hawaiian history for 30 years. She frequently lectures at schools and for community groups, and is the state's leading authority on historic graveyards. Her book, "Oahu Cemetery Burial Grounds & Historic Sites," is a valuable resource for historians and genealogists.
"I always present facts from a Hawaiian perspective," said Napoleon. "I feel it's very important to do this because written history about Hawaii over the last 200 years has largely been from the Western point of view."
Over the years, she has gleaned tidbits that are not widely known, even among her peers.
For example, many people might be surprised to know that the original Royal Mausoleum was located in what is now the southeastern quadrant of Iolani Palace's grounds.
After King Kamehameha II and his wife, Queen Kamamalu, succumbed to the measles while visiting London in 1824, a mausoleum of whitewashed coral blocks was built for them on this site. The remains of other alii (royalty) were subsequently entombed there.
In 1865, 18 coffins, including those of Kamehameha II and Kamamalu, were transferred in a torchlight procession at night to the new Royal Mausoleum (Mauna Ala) in Nuuanu. Although the original tomb was torn down after this move, some believe a few alii, including Chiefess Miriam Kekauluohi, mother of King Lunalilo, remain buried in the original spot, which is fenced off and covered with ti plants.
"Why it was that some were left behind has always been a topic of debate," said Napoleon.
OCCASIONALLY, TOUR participants reveal information that Napoleon didn't know. For example, most historical references identify a handsome Hawaiian, Robert Hoapili Baker, as the model for the famed statue of King Kamehameha that stands in front of Aliiolani Hale, the Judiciary Building on King Street.
A woman on one of Napoleon's tours said that she was a descendant of Baker's, that he was descended from King Liloa of the Big Island and that he served as an aide-de-camp to King Kalakaua and as governor of Maui, Molokai and Lanai.
"I love it when people share their own stories," said Napoleon. "It makes the tour more interesting, as do the historic photographs, drawings, paintings, documents and books that I show."
Most visitors arrive at the Capitol district via bus tours, which stop only at the Kamehameha statue and which are led by guides who are given a script to memorize and recite.
Napoleon's narrative is flexible; she talks about many different topics based on participants' interests.
"I love it when someone asks a question that leads to a discussion among everyone," she said. "My goal is to inspire them to visit each site again to learn more."
Cheryl Chee Tsutsumi is a Honolulu-based free-lance writer and Society of American Travel Writers award winner.