---
FAST FACTS HAWAII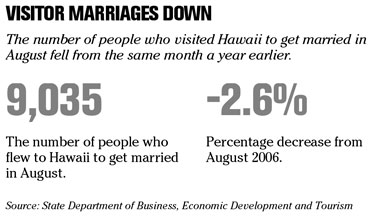 ---
HAWAII
Alaska inaugurates Kauai service
Alaska Airlines
will inaugurate its year-round, non-stop service to Lihue, Kauai on Sunday, following on the heels of its new service to Honolulu.
The new daily Seattle-to-Lihue flights will depart from Seattle-Tacoma International Airport at 4:20 p.m. Pacific time and arrive in Lihue at 7:45 p.m. Hawaii time. Return flights depart Lihue at 9:15 p.m. Hawaii time and arrive in Seattle at 5:55 a.m. Pacific time.
The schedule offers convenient connections for travelers in other cities also served by Alaska Airlines and its sister carrier, Horizon Air, throughout the Pacific Northwest and state of Alaska.
Alaska launched its Seattle to Honolulu service on Oct. 12, and will begin its Anchorage to Honolulu service on Dec. 9.
Pacific Park Plaza sale closes
The sale of the Pacific Park Plaza, on the corner of Kapiolani Boulevard and Cooke Street, closed yesterday for $85 million.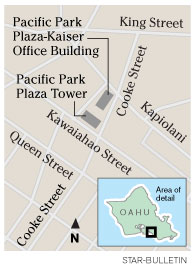 ScanlanKemperBard Cos., a $2 billion Portland, Ore.-based real estate private-equity firm, bought the 16-story glass office tower and adjacent low-rise Kaiser Permanente building from California-based TMS-Curci LLC.
The purchase is SKB's first Hawaii acquisition, though the company has plans to invest up to $500 million in the islands.
The deal includes the 213,000-square-foot office tower, 40,000-square-foot Kaiser building and 0.8-acres of land beneath a five-story, 550-stall parking garage at 711 Kapiolani Blvd.
TV anchor, Vili to swap jobs
A KHNL-TV feature that has its anchors swap jobs with people in the community will take Stephanie Lum to Aloha Stadium tonight, where she will swap jobs with Vili (Fehoko) the Warrior during the University of Hawaii football game.
Fehoko is known for his physicality, booming voice and for drumming up excitement among players and fans, while Lum's regular job is considerably more restrained.
On Thursday, Nov. 1, the first day of the periodic Nielsen ratings, Fehoko will appear as a guest anchor on KHNL News 8 at 10 p.m. The station will feature its anchor job-swap segment each Thursday during the month. The Nielsens wrap up on Nov. 28.
ResortQuest files suit for charges
ResortQuest Hawaii LLC
last month filed a suit against a Spokane, Wash.-based sports event company that it claims owes nearly $83,000 in unpaid room charges.
The hotel chain is suing president Aaron Alteneder individually and Tourney Sport USA for leaving partially unpaid bills for more than 100 rooms booked for eight to 10 days last December and January, said Kelvin Bloom, ResortQuest president.
Tourney Sport USA, formerly Hoopsmart USA Inc., was established in 1998. The company Web site says it has hosted events in Hawaii for the past decade.
The suit, filed Sept. 14, is seeking special, general and punitive damages. A hearing has been set for Oct. 31 in First Circuit Court.
NATION
FedEx to up air shipping rates
MEMPHIS, Tenn. »
FedEx Corp.
said yesterday it will increase its air shipping rates in 2008 by an average of 4.9 percent.
Listed rates for packages and freight carried by the cargo airline FedEx Express will go up by 6.9 percent. But the increase is offset by a 2 percent reduction in the fuel surcharge.
It applies to air shipping within the U.S. and items exported abroad.
The Memphis-based company said rates are also expected to go up for ground shipping in the U.S. Those increases will be announced later this year.
Importers flying shipments into the country will now pay a standard rate in U.S. dollars, rather than foreign currency.
---
BUSINESS PULSE