| | |
| --- | --- |
| | Island Mele |
---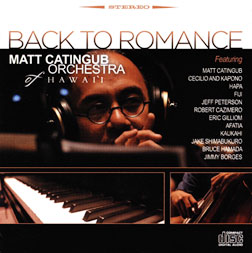 "Back to Romance"
Matt Catingub Orchestra of Hawai'i
(Mountain Apple Company)
It was almost exactly one year ago that Matt Catingub and Allen Sviridoff introduced the Matt Catingub Orchestra of Hawaii with "Return to Romance," an album of pop standards featuring several of Catingub's favorite Hawaiian vocalists and some friends from the mainland who'd worked with him as guests of the Honolulu Symphony Pops.
The title of the project was particularly appropriate because Catingub's arrangements utilized the talents of a 39-piece orchestra, rather than the modern norm of a few musicians plus computers and synthesizers. In other words, he was returning to the classic romantic sound of an earlier era. Catingub maintains the basic concept here while also expanding on it in several noteworthy ways.
First, there's a theme-within-a-theme this time in that all the guests are men. Second, a broader spectrum of acts is featured. Whereas the emphasis last year seemed to be on individual voices, there's a much stronger feeling of group participation this time: Kaukahi pays tribute to the Mills Brothers while delivering "Dream a Little Dream of Me" in four-part harmony, Cecilio and Kapono go back to their Rainbow Villa days with a familiar take on "We're All Alone" and Kapono appears with Catingub as his singing partner on "Oh, Pretty Woman." The C&K cut is the least adventurous, while "Oh, Pretty Woman" is Catingub's biggest gamble in terms of reworking a Top 40 classic into orchestral pop. It will probably sound better after you listen to it several times.
Four songs stand out. Fiji's rendition of "My Love" reaffirms his place as Hawaii's top soul/R&B vocalist; someone should produce an entire album of Fiji singing soul classics with an orchestra. Eric Gilliom distinguishes himself with a beautifully nuanced interpretation of "The More I See You," and Afatia likewise displays his feel for mainstream pop with "This Boy." And then there's Bruce Hamada; it's no secret that the talented bassist can sing, but "'Till There Was You" will prove the point to a larger audience.
Two of Catingub's guests from the first album encore here. Robert Cazimero again displays his versatility on "Tenderly" and "I Only Have Eyes for You," and Jimmy Borges makes "My Special Angel" a strong finale.
Catingub sings solo on two songs and features his sax on a third. Jake Shimabukuro and guitarist Jeff Peterson add to the feeling of musical diversity with their work as featured guests elsewhere.
---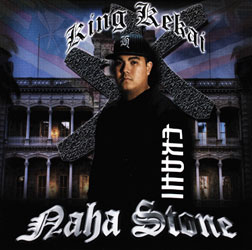 "Naha Stone"
King Kekai
(Ekahi Entertainment)
The vitality of Hawaii's contemporary hip-hop scene is demonstrated once again as King Kekai debuts with this collection of original observations and insights. The title song introduces him as a man who has been "... waitin' like Satan ..." to claim his rightful place in local music. From there he gets into political and social issues with "Take a Walk With Me," a frank look at "the other side of Paradise" that asks why "... the money only spent on Waikiki? Why the roads in Waianae got potholes in them ... and the schools got more GEDs than graduates ..." And yes, other artists have commented on Hawaii's ice epidemic, but the message continues to be relevant.
Kekai gets personal, and speaks for generations of men, with "To Raise a Man" as he apologizes to his mother for not appreciating all the sacrifices she made when he was growing up.
He switches from hip-hop to acoustic Jawaiian for a love song, "Even Though It's Raining," and combines elements of both genres on "H's Up" as he mashes up an introduction to local culture with shout-outs to various places.
"Green Bottles" shows shrewd commercial instincts. The song is a perfect jingle for any alcoholic beverage that comes in green glass!
---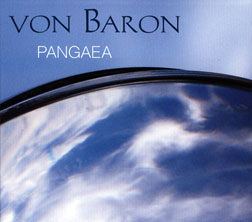 "Pangaea"
von Baron
(von Baron Music)
What a difference a name change can make! Performing under his birth name, Adam Baron is well known as the drummer of the staunchly traditional Honolulu Jazz Quartet. Replace his given name with the ennobling Germanic honorific "von" and he becomes a self-contained musical entity who blends electric New Age instrumentation, percussive rhythms from several cultures, and a few additional "live" instruments, to create a genre he calls World Age Music.
What's that mean? Well, the electronic arrangements have more vitality and presence than traditional New Age music, and the rhythm tracks suggest tropical, or at least Mediterranean, influences. There is also a jazz feel.
Von Baron's percussion work provides an organic element. The mood is energizing yet soothing -- a seeming contradiction, but it's evident from the first song that he intends this music to be heard and appreciated rather than serve as ambient filler.
Tim Tsukiyama sits in on woodwinds on two selections. His work with von Baron on "In My House," one of the most dance-oriented numbers, makes the song an instant standout in this beautifully crafted project."
John Berger
, who has covered the local entertainment scene since 1972, writes reviews of recordings produced by Hawaii artists. See the Star-Bulletin's Today section on Fridays for the latest reviews. Reach John Berger at
jberger@starbulletin.com
.