---
FAST FACTS HAWAII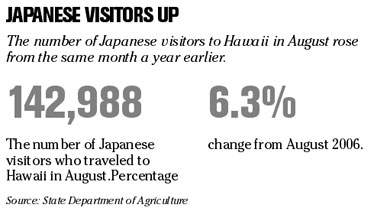 ---
HAWAII
Horizon matches Matson surcharge
Horizon Lines Inc.
has amended the increase in its recently announced fuel surcharge to 26 percent, a gain of 2 percentage points, to match the increase of rival
Matson Navigation Co.
The new surcharge for Horizon's Hawaii and Guam trades will be effective Dec. 3.
On Oct. 12, Horizon said it would boost its surcharge to 25 percent from 24 percent, effective Nov. 11, but when Matson said last Friday it was boosting its surcharge 2 percentage points to a record 26 percent, effective Dec. 2, Horizon revisited its increase.
Horizon said yesterday that the increase is necessary to offset a portion of the "sharply higher" bunker fuel cost that the company has experienced in recent weeks.
Pasha Hawaii Transport Lines, which ships vehicles between Hawaii and San Diego, currently has a 19.5 percent fuel surcharge and said it is reviewing the increase by its competitors.
A&B to maintain dividend
Alexander & Baldwin Inc.
said yesterday it was maintaining its quarterly dividend at 29 cents a share.
The dividend, which equates to an annual yield of 2.3 percent, will be payable on Dec. 6 to shareholders of record as of the close of business on Nov. 8.
NATION
Mortgage rates slide
WASHINGTON » Rates on 30-year mortgages fell to the lowest level in six weeks as financial markets grew more hopeful that the Federal Reserve will boost the sluggish economy by cutting interest rates further.
Freddie Mac, the mortgage company, reported yesterday that 30-year, fixed-rate mortgages fell to 6.33 percent this week, down from 6.40 percent last week. It was the lowest level since 30-year mortgages dipped to 6.31 percent on Sept. 13, which had been the lowest point since last May.
Rates on 15-year fixed-rate mortgages averaged 5.99, down from 6.08 percent last week.
'Halo 3' helps Microsoft
SEATTLE »
Microsoft Corp.
said yesterday its fiscal first-quarter profit rose 23 percent as brisk sales of the new "Halo 3" video game, Windows and Office helped the software maker breeze past Wall Street's expectations.
For the quarter ended Sept. 30, the software maker's profit climbed to $4.29 billion, or 45 cents per share, from $3.48 billion, or 35 cents per share, during the same period last year.
Analysts, on average, had forecast a profit of 39 cents per share, according to a Thomson Financial poll.
BRIEF CASE
No games
Nintendo Co. said yesterday profits more than doubled in the six months to Sept. 30 on the roaring success of its hit Wii and Nintendo DS game consoles. The Japanese manufacturer of Pokemon and Super Mario games said its group net profit surged to 132.42 billion yen ($1.16 billion) in its fiscal first half from 54.35 billion a year earlier.
Tesoro to add sulfur unit in Hawaii
NEW YORK »
Tesoro Corp.
, the largest refiner in the U.S. West, plans to add equipment to its refineries in Hawaii and three other locations that will allow it to process high-sulfur crude oil, the company's chief economist said.
The units, which remove sulfur from oil, will be added to Tesoro's plants in Kapolei, Los Angeles and Martinez, Calif., and Anacortes, Wash., Lynn Westfall said in an interview in New York. He did not disclose the amount Tesoro will invest in the upgrades.
The so-called desulfurization equipment will allow the refineries to refine oil grades pumped in Saudi Arabia, West Africa and Russia's Sakhalin Island, he said.
The projects will follow the construction of a $500 million coker unit at the Martinez refinery, which is scheduled to be completed at the end of the second quarter 2008, Westfall said.
Tesoro operates seven refineries, located in California, Washington, Alaska, Hawaii, Utah and North Dakota.
[ HAWAII INC. ]
Board elections
» The Hawaii Allied Memorial Council has elected its officers and directors for 2008-2009:
Jerome Andrade
, president;
Michael Oh
, vice president;
Claus Hansen
, secretary; and
Alice Hahn
, treasurer. Directors are
Ruby Alvarez
,
Mitchell Dodo
,
Jay Morford
,
Elaine Nakamura
,
David Morikami
,
Roberta Simpkins
,
Pat Souza
,
Derwin Tsutsui
and
Beverly Dodo
.
» The Hawaii Funeral Directors Association has elected its officers and directors for 2008-2009: David Morikami, president; Derwin Tsutsui, vice president; Elaine Nakamura, secretary; and Jerome Andrade, treasurer. Directors are Mark Ballard, Eadean Buffington, Beverly Dodo, Katherine Morikami and Roberta Simpkins.
» The Executive Women International Honolulu chapter has elected Lois Asato as president. She currently serves as sales manager for the Hawai'i Convention Center and has represented the convention center to the organization for three years. Executive Women International is comprised of members in business, government and non-profit agencies in the U.S., Canada and Europe.
---
BUSINESS PULSE