Kamehameha makes its way back to top of poll
The merry-go-round continues at the top of the Star-Bulletin Girls Volleyball Top 10 rankings today.
Kamehameha, which swept Iolani last week, collected seven of eight possible first-place votes to reclaim the No. 1 ranking. The Warriors are also ranked ninth nationally by PrepVolleyball.com and have been on a tear since a midseason loss to the Raiders.
Iolani and Kamehameha meet one more time -- today at 6 p.m. -- for the Interscholastic League of Honolulu championship. The match will be held at Iolani's gym. At stake is a first-round bye in the state tournament, which begins on Oct. 31 in Hilo.
"We worked a lot on tactics, a lot on technique," Kamehameha coach Chris Blake said following yesterday's light practice. "We definitely know we can play better. We have to step up our game because we know Iolani will."
While Kamehameha, Iolani and Punahou have secured Division I state berths, the Oahu Interscholastic Association playoffs resume tonight at McKinley Student Council Gym.
Preseason favorite Moanalua hit a lull in midseason, but is ramping back up to top form. Na Menehune, ranked No. 7, will meet fourth-ranked Roosevelt, the defending OIA champion. The Rough Riders swept Moanalua on Sept. 18 and 27 during regular-season play.
Fifth-ranked Kahuku will make the long trip to town and face the best from the West, No. 8 Mililani.
"It's two classic matchups," Blake said. "I got my TiVo on to see what's going on over there. I know those teams have improved. When OC 16 has it on TV, it allows us and the teams on the Neighbor Islands to have a coaching and scouting advantage."
On Maui, Seabury Hall rallied from the brink of defeat to edge Molokai in the MIL Division II tournament final. At No. 6, the Spartans are the highest-ranked D-II team in the Top 10.
Sacred Hearts, which dropped to No. 10, is the only ranked team that has been eliminated from the playoffs. The Lancers, playing in Division I this season, fell to Punahou for the third and final ILH state berth.
Star-Bulletin Top 10 Poll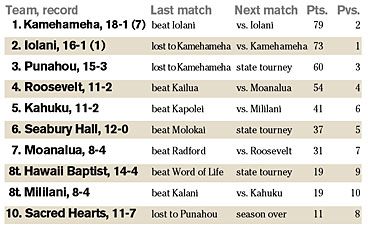 » Voted on by coaches and media from around the state
» First-place votes in parentheses
» 10 points for first-place vote, 9 for second, 8 for third; etc.
» Also received votes: Kamehameha-Hawaii 10, Molokai 4, Hilo 1