---
FAST FACTS HAWAII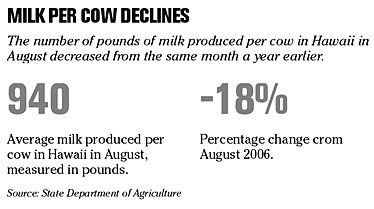 ---
NATION
GM takes sales lead over Toyota
DETROIT »
General Motors Corp.
outsold
Toyota Motor Corp.
in the first nine months of the year, buoyed by sales outside the U.S., in the battle to extend its 76-year reign as the world's largest carmaker.
GM sold 7.06 million vehicles through September, helped by Chevrolet-brand sales and the Opel Corsa small car, taking a lead of 10,000 units over Toyota's 7.05 million, the two companies said in separate statements yesterday. At the end of the first half, Toyota, maker of the Camry sedan, led by 39,000 vehicles.
Toyota's sales in the U.S., its largest overseas market, dropped each month of the third quarter, the longest stretch of declines since 1995. GM's sales in North America, its largest market, declined 6.1 percent during the quarter to 1.21 million vehicles.
Transformers help Hasbro
PROVIDENCE, R.I. »
Hasbro Inc.
, world's second-largest toymaker, said yesterday its third-quarter profit climbed 62 percent on higher sales led by Transformers and Spider-Man toys and a favorable tax adjustment.
The Pawtucket-based company also said its business has not been hurt by high-profile recalls for lead paint by several other toy companies, including its chief rival, Mattel Inc.
Earnings surged to $161.6 million, in the three months ended Sept. 30 compared with $99.6 million in the year-ago period. Quarterly revenue rose 17 percent to $1.22 billion from $1.04 billion in the prior year. The results easily beat analysts' expectations.
WorldWal-Mart taking over Japan unit
TOKYO » U.S. retailer
Wal-Mart Stores Inc.
will take full ownership of its Japan unit
Seiyu Ltd.
, Seiyu announced yesterday.
Seiyu Ltd., now 50 percent owned by Wal-Mart, the world's largest retailer, has posted losses for five straight years and is expected to see more red ink this year.
Since entering Japan in 2002, Wal-Mart has been raising its stake in Seiyu, which has some 400 stores nationwide. Wal-Mart uses the Seiyu brand, familiar to Japanese, instead of using the Wal-Mart name.
BRIEF CASE
LUCRATIVE MEDICINE:
Merck & Co. posted a 62 percent increase in its third-quarter profit yesterday, as the drugmaker's revenues increased by double digits, beating analysts' expectations. It also boosted its full-year earnings forecast.
BACKING DOWN: Microsoft Corp. dropped a nearly decade-long legal battle with European regulators yesterday that has already led to hundreds of millions in fines. The company will slash royalties and make access to its code easier for open-source developers.
---
BUSINESS PULSE