Hawaii jobless rate steady
Hawaii's seasonally adjusted unemployment rate remained steady in September for the third straight month at 2.6 percent -- second best in the nation -- even as the economy continued to cool.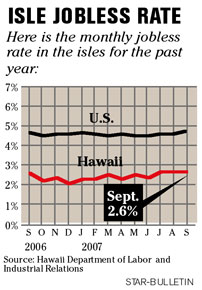 Idaho held onto the top spot at 2.3 percent, according to data released yesterday by the U.S. Department of Labor.
Hawaii's jobless rate was up from a revised 2.2 percent in September 2006 but still far below the national unemployment rate of 4.7 percent in September 2007.
First Hawaiian Bank economics consultant Leroy Laney said he expects the jobless figure in Hawaii to remain low for some time. Hawaii hit an all-time low of 2.0 percent in December 2006.
"We have been very close to the lowest, or even the lowest, going on three years now," he said. "We do have an extremely tight labor market, and I suspect it will stay fairly tight even though the economy is cooling down some. We have been in an expansion in Hawaii for about 11 years and that is exhausting the state labor supply."
Statewide, the state labor force increased in September by 9,571 to 652,045 from 642,474 as people returned to school. The number of those employed rose 9,091 to 634,943 from 625,852 and the number of unemployed rose 480 to 17,102 from 16,622.