| | |
| --- | --- |
| | Island Mele |
---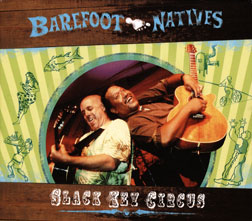 "Slack Key Circus"
Barefoot Natives
(Barefoot Natives)
Megatalented "Uncle Willie K" Kahaialii and his bald "barefoot" partner, Eric Gilliom, are instant front-runners for a 2008 Na Hoku Hanohano Award for album cover design with the release of "Slack Key Circus." The cover is only one panel of an elaborate foldout that shows Willie blindfolded and posed like a circus knife-thrower but holding a raw fish instead of a knife. Willie's target is revealed by removing the CD from the tray.
The musical contents are equally memorable. Willie has been known as an extremely versatile recording artist ever since his debut album in 1991. He displays that again here with an eclectic assortment of new songs that include the powerful opening number ("E Komo Mai"), a poignant love song ("All My Life"), a place song for Lahaina ("My Home Town") and a catchy comic salute to "Huli Huli Chicken" that has almost unlimited potential as a commercial jingle.
Gilliom's contributions as a writer include an imaginatively humorous ode to a decrepit car ("Maui Cruiser") and a spirited local slacker anthem, "Only Wanna Party."
The two also write together. One of their Hawaiian-language songs, "Eia La," evokes memories of "The Hawaiian War Chant." Another, "Ke Aloha A'u E Hali'a Nei," demonstrates their strength as Hawaiian balladeers.
As performers, their musical partnership is innovative and beautifully crafted throughout. The final track, "Only Wanna Party (Hana Hou)," provides a taste of their intensity in concert.
An illustrated liner notes booklet adds entertainment value and reveals how the slack-key theme permeates every selection.
---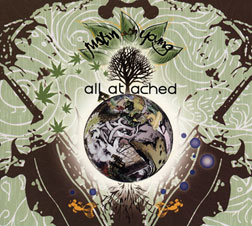 "All Attached"
Justin Young
(Justin Young Records)
Give Justin Young credit for artistic integrity! He could have enjoyed a successful, although probably short, career as a pop teen heartthrob in the late 1990s, or secured a comfortable studio gig as a purveyor of synth-based Jawaiian music. Instead he went to the mainland, where nobody knew or cared about what he'd accomplished in Hawaii.
Young studied music and the music business while continuing to hone his skills as writer, recording artist and studio craftsman. "One Foot on Sand," his long-awaited Hawaiian album, was one of the most impressive local albums of 2003. Now, with this album of introspective soft pop originals, Young displays equal strength as a mainstream songwriter and recording artist.
Young writes in his liner notes that his album is "handmade, personal and happily imperfect ... with the dirt and sweat still intact." Any bits of "dirt" only add to the appeal. His singing is soft yet forceful, the musical arrangements are diverse in tempo and texture but fit together well, and his lyrics deserve careful listening.
"Sideshow Attraction" is a standout example of his memorable lyrics. In it he dissects a relationship in which he was a "raincoat ... hanging on every word that the weatherman says." Although told "I fit nicely," he's relegated to the closet when it stops raining. The tables turn, however, and Young ends by informing the woman that he's come to realize that she's only "a river ... and I think I'll wait to find the ocean." What a great dis!
"Sunlight of Kailua," an enigmatic love letter to a girl he last saw in 1996, is another good example of his skill as a lyricist and arranger.
The 12 other selections are of similar quality. Whether working solo or with several other musicians behind him, Young is a contemporary troubadour worth hearing.
---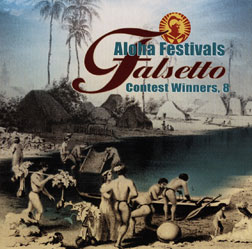 "Aloha Festivals Falsetto
Contest Winners, Vol. 8"
Various artists
(Hula)
Hula Records released the first album in this popular series when there were only two Aloha Festivals falsetto contests -- the Clyde "Kindy" Sproat Falsetto and Storytelling Contest on the Big Island and the Frank B. Shaner Hawaiian Falsetto Contest on Oahu. Aloha Festival falsetto contests are now held on Maui and Kauai as well, and all four have benefited from the exposure given the contest winners by these compilations.
The producers of the series, Donald P. "Flip" McDiarmid III and William "Baba" Alimoot, did something different last year when they made "Vol. 7" the first in the series with a unifying theme -- "Na Paniolo Nui O Hawai'i" translates as "the great cowboys of Hawaii," and many of the songs were connected in some way to the paniolo tradition. The latest in the series also has a theme -- "Ke Kahua Lani O Hawai'i," translated as "Hawaii's beloved royal playgrounds" -- and several selections describe places the old-time alii of Hawaii enjoyed.
This year, however, McDiarmid and Alimoot are showcasing only two of last year's winners. Kalani Benanua (Maui) and Ellis Isaac (Kauai) distinguish themselves with four selections each and prove themselves worthy representatives of the tradition. Vintage recordings by Benny Kalama, Kahauanu Lake, Dennis Pavao and John Piilani give buyers examples of classic male falsetto. Informative liner notes complete this excellent introduction to the Hawaiian art.
John Berger
, who has covered the local entertainment scene since 1972, writes reviews of recordings produced by Hawaii artists. See the Star-Bulletin's Today section on Fridays for the latest reviews. Reach John Berger at
jberger@starbulletin.com
.