Pacifica, Ctrl-Alt-Del, Malcognitas to open 'Enterprise'
SO MUCH for
the Loft's
soft opening earlier this month. Word had spread that
Ara Laylo's
"Enterprise" party would launch on Oct. 5 at the new Hotel Street nightclub. But when I made it to the area last weekend, the second-floor space was closed.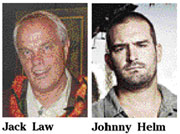 The issue, I'm told, is that the Loft has yet to secure a liquor license. While the plan was to have everything up and running by now, it looks like the club will be BYOB until 2008.
Still, plans are moving forward to open up this weekend (for real this time), with "Enterprise" featuring live performances by Pacifica, Ctrl+Alt+Del and the Malcognitas on Friday. "Casa" will return to action on Sunday, and the Ionz, Isouljahs and Most High will play an 18-and-over show on Oct. 27 ...
CONGRATS TO local electronica enthusiasts AYA Hawaii, who celebrate five years of party promoting (or nine, if you count their previous incarnation as Imaginary Friends) with a special guest set by Lee Burridge at Lotus Soundbar on Saturday. AYA DJs Ramyt, Miklos, Jimmy James, Rayne and Akio will open ... Tiki's Grill and Bar celebrates its fifth anniversary during its new "Tiki Tuesdays" pau hana promotion. Inner Session will play from 4 to 7 p.m., followed by Vaihi from 7 to 9 p.m. and Christian Yrizarry with Sani Apuakehau from 9 to 11 p.m. ... Jack Law has enlisted the help of former employee Flash Hansen to present a Wave Waikiki reunion party at Señor Frog's Waikiki on Nov. 21. Rail will perform for the first time in more than three years, with former Wave DJs KSM, RacerX and Byron the Fur also on hand ...
CAN'T GET enough of the '80s? Head to Waikiki on Friday for "The Go Ahead" at the Lava Rock Lounge.
While finding the bar inside the International Marketplace can be a chore, it's a cozy little spot with reasonable drink prices that keeps the liquor flowing until 4 a.m. DJs Casey, Gootie, Ross Jackson, Dougie and Vagina promise a mix of pop, rock, electro, glam, disco and more, with free admission before midnight and a $5 cover charge afterward.
What makes me laugh, however, is the language used by promoters in an e-mail announcing the party. The new weekly promises people "a night of quality inclusive fun" and "straight dance music; no judgment."
Sounds like a rip-off of NextDoor's "Acid Wash Wednesdays," repackaged for the tourists in Waikiki, if you ask me ...
EVER WANTED to experience what it's like to be a pinup model? Now is your chance.
In conjunction with Honolulu appearances by mainland burlesque troupe the Glam-O-Rama Girly Show, performer-photographer Bettina May will host a pinup model workshop at the Mercury Bar on Oct. 28.
May has a full day of hands-on actvities planned, including tips on hair, makeup and how to pose for the camera. At the end of the day, participants will leave with a CD filled with photos documenting their pinup experience.
Cost of the workshop is $125; e-mail bettinasuicide@hotmail.com for more info ...
COMING UP: Makana is back in town from Los Angeles, and will perform at Indigo from 8 to 11 p.m. on Wednesday ... Get an early start on Halloween with the "Chinatown Get Down" on Oct. 26. Double-O-Spot, Hype Media and Partymasters Hawaii team up to offer one cover charge that provides access to five clubs (Indigo, Mercury Bar, thirtyninehotel, NextDoor and Pipeline). Check out www.chinatowngetdown.com for more ... Johnny Helm kicks off the first Sunday afternoon live performance at Du Vin on Oct. 28, starting at 12:30 p.m. ...
I'M OFF to the mainland for a conference and some quality time at the poker tables in Las Vegas. "In the Mix" will return on Nov. 9; be sure to check my blog for the very latest nightlife news while I'm gone ...