---
FAST FACTS HAWAII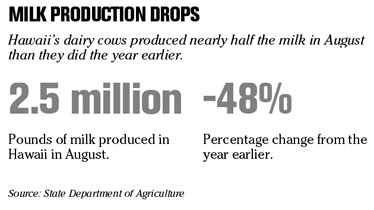 ---
NATION
Mortgage rates little changed
WASHINGTON » Rates on 30-year mortgages were unchanged this week while rates on other types of mortgages also showed little movement.
Freddie Mac reported yesterday that 30-year, fixed-rate mortgages averaged 6.40 percent this week, the same as last week.
Rates on 15-year fixed-rate mortgages averaged 6.08 percent this week, up only slightly from 6.06 percent last week. Rates on five-year adjustable rate mortgages averaged 6.11 percent, basically unchanged from 6.12 percent the previous week. Rates on one-year ARMs edged up to 5.76 percent, compared to 5.73 percent last week.
A year ago, 30-year mortgages stood at 6.36 percent, 15-year mortgages were at 6.06 percent, five-year ARMS averaged 6.11 percent and one-year ARMs were at 5.57 percent.
Bank of America profit drops 32%
CHARLOTTE, N.C. »
Bank of America Corp.
, the nation's second-largest bank, said yesterday its profit fell 32 percent in the third quarter as trading losses and write-downs on a wide variety of loans offset solid revenue growth in most businesses.
As a result, the company is planning potentially major strategic changes to its investment bank, the division that dragged down the company's profits, Chairman and Chief Executive Kenneth D. Lewis said.
Net income at the Charlotte-based bank declined to $3.7 billion, or 82 cents per share, in the three months ended Sept. 30 from $5.42 billion, or $1.18 per share, a year ago. Revenue fell 12 percent to $16.3 billion from $18.49 billion last year.
Pharmaceutical profits mixed
TRENTON, N.J. » Major pharmaceutical companies turned in mostly bland third-quarter results yesterday, but there was at least one bright spot, with
Eli Lilly and Co.
beating analysts' expectations, raising its earnings forecast and announcing a promising collaboration.
At the other extreme, Pfizer Inc. reported a 77 percent plunge in profit as generic competition cut sales of its blockbuster cholesterol drug Lipitor. Pfizer, the world's biggest drug maker, also took a whopping $2.8 billion charge to exit its partnership for selling inhaled insulin treatment Exubera due to disappointing sales.
In between them, Wyeth saw profits drop slightly, while Switzerland's Novartis AG reported poor pharmaceuticals sales and announced 1,260 U.S. job cuts.
BRIEF CASE
FLYING HIGHER:
Southwest Airlines Co., the nation's biggest discount carrier, yesterday said its third-quarter profit rose as its load factor reached a record 76.6 percent. Net income rose to $162 million, compared with $48 million a year earlier. Revenue increased to $2.59 billion from $2.34 billion.
BITTER CHOCOLATE: Hershey Co., the nation's largest candymaker, said yesterday its third-quarter profit tumbled 66 percent to $62.8 million on lower sales, higher promotional spending and a charge to streamline its operations.
INFLATION UNTAMED: China's consumer prices jumped 6.2 percent last month on higher food costs, leading the government to consider tightening monetary policy and investment curbs, an official said today. September's figure was down slightly from 6.5 percent in August, but far exceeds the government's target rate of 3 percent for the year.
---
BUSINESS PULSE