Waterways require work
Big Isle irrigation ditches face a long recovery to bring relief to farmers
HAWI, Hawaii » Rebuilding of Flume No. 16 of the Kohala Ditch on the Big Island was completed two weeks ago, a major step in repairing the earthquake-damaged irrigation system and a major step in saving agriculture in North Kohala.
In the nearby Hamakua District, years of repairing the Lower Hamakua Ditch had finally brought water to the entire 24-mile length of the system before the Oct. 15 earthquake. The jolts cut off water in an hour, and farmers are still waiting for millions of dollars worth of new repairs.
Only at the Upper Hamakua Ditch in the Waimea area has service to farmers been completely restored, said state agriculture official Brian Kau. Even there, the recovery has been due to temporary repairs.
When the unprofitable Kohala Sugar Co. went out of business in 1975, the ditch serving it was also unprofitable. Gradually, portions of the 22.5-mile system of tunnels, flumes, pipes and the ditch itself were abandoned, reducing the system to 15 miles, said Mike Gomes, head of Surety Kohala Corp. which owns a new subsidiary called the Kohala Ditch Co.
The moneymaker from the ditch was not agriculture but Flumin' Da Ditch, a tourism company that paid $180,000 a year to Surety to let tourists paddle the ditch in kayaks, compared with $60,000 per year in water sales. The kayak company immediately went out of business when the quakes cut water to zero.
Gomes is certain another company will resume kayaking once the ditch is repaired, expected early next year.
A major difficulty was getting public money to repair a private system. Creation of the ditch company as a Surety subsidiary ensures that repair money will not be mingled with Surety money, Gomes said.
Current funding includes $2 million in federal money, $500,000 from the state, $500,000 from Hawaii County, $342,000 from Kamehameha Schools, and $100,000 from AT&T.
The ditch company spent $375,000 rebuilding the 131-foot Flume No. 16, then started work on Flume No. 15.
The ditch is entirely gravity-fed, but debris upstream is preventing any flow at present. "That mountain is still sliding," Gomes said.
Downstream, customers get a small amount of water from a Surety well, keeping businesses like Kohala Nursery going and providing drinking water through a recent drought for Ed Boteilho's 1,500 dairy cattle.
But Boteilho had no water to irrigate pastures, so he had to buy feed. "It's been one nightmare after another," he said.
Lance Caspary, owner of Kohala Crawfish Farm, gets even less water. He keeps a spigot slightly open in case a momentary surge of water comes through the ditch system from the Hawaii County system. Then he rushes containers to catch as much as he can, maybe 200 gallons.
Caspary gets enough to maintain a few waist-high tanks where he raises crawfish and prawn broodstock.
But his five 1-acre ponds, where he used to grow the creatures to full size, have been dry for a year.
Caspary supplements his aquaculture by growing a small patch of coffee, but that's not enough. "Even with the high dollar prices, coffee is just barely worth the work you put into it," he said.
"It has been devastating. I don't know how we've survived," he said.
At the Lower Hamakua Ditch in the Honokaa area, the quake blocked water from intakes upslope at the back of Waipio Valley and opened old wounds. Some water gets into the ditch from the small Lalakea Ditch and reservoir to serve the main body of farmers down the coast. The Lalakea Ditch and reservoir were supposed to be abandoned so water could follow its natural course over Hiilawe Falls into Waipio Valley where it would serve a small number of farmers.
An emergency proclamation by Gov. Linda Lingle kept the Lalakea Ditch and reservoir open, but Waipio Valley farmers complain they lack water.
"Last month there was no water in the falls. It's not coming," said Waipio farmer Kekena Lo at a recent water meeting.
Water from the Lower Hamakua Ditch reaches only about seven miles before sinking into the ground after leaving tunnels in Waipio Valley. Some farmers along the remaining seven-mile stretch get some county water from wells, normally intended for household use.
Ditch water comes from three intakes high up in the back of Waipio Valley. The one at Alakahi Stream has to be repaired. The terrain is so difficult that no Big Island company would bid on it, and Royal Contracting of Honolulu had to be "begged" to take the job, Kau said.
In Waimea, the eight-mile Upper Hamakua Ditch is flowing normally, but that is due to two 12-inch pipes carrying water across a gulch where quakes collapsed a flume.
State and federal money committed for the upper and lower ditches now totals $9.5 million, Kau said. He's working on getting an additional $5 million, slowly coming through the money pipelines.
LIFE'S A DITCH
Three main irrigation ditches serve North Kohala, Waimea and Hamakua.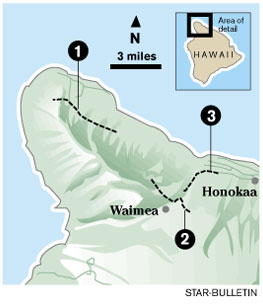 1. Kohala Ditch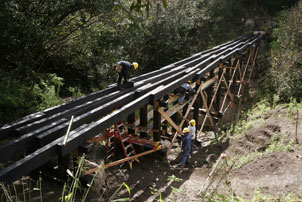 » Length: 15 miles
» Customers: 60 to 70
» Acres served: 7,000-8,000
» Water flow: 0
» Well water piped to farmers: 5 percent of normal
» Cost to repair: $4M
2. Upper Hamakua Ditch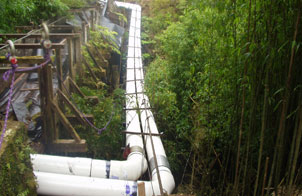 » Length: 8 miles
» Customers: 125
» Acres served: 560
» Water flow: Normal due to temporary repairs
3. Lower Hamakua Ditch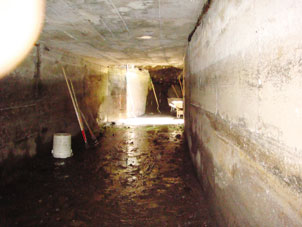 » Length: 24 miles
» Customers: 200
» Acres served: 6,500
» Water flow: Spotty
» Well water serving farmers: Spotty
» Cost to repair upper and lower ditches: $14.5M
---
County again solicits repair bids for gym
In North Kohala, the county's Ikuo Hisaoka Gymnasium has none of the renown enjoyed by other buildings damaged by the quake.
At first, it seems little damaged except for fallen ceiling tiles and dangling wires in the interior. But county Parks and Recreation Director Pat Engelhard said steel beams holding the walls and ceiling together separated during the shaking.
When the county put the repair job out for bids in July, no one bid. Engelhard thinks that was due to North Kohala's remoteness, a two-hour drive from Hilo, and nearly as much driving time from Kona. Construction companies have plenty of work in Hilo and Kona without going to North Kohala, she thought. But recently she learned that two companies are interested in bidding, so the request for bids was reissued Oct. 4 and bids will be opened Oct. 25, she said.