---
FAST FACTS HAWAII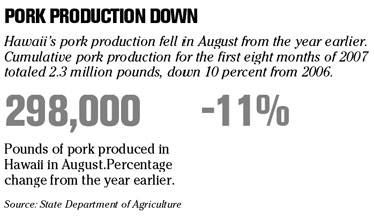 ---
NATION
Yahoo quarterly earnings slip
SAN FRANCISCO »
Yahoo Inc.
's third-quarter profit slipped less than analysts feared, raising hopes that co-founder Jerry Yang will deliver on his promise to turn around the slumping Internet powerhouse now that he has settled in as chief executive.
The prospect of better times lifted Yahoo's stock price more than 9 percent late yesterday.
The Sunnyvale-based company said it made $151.3 million during the three months ended in September. That was 5 percent less than its net income of $158.5 million in the same period last year.
The earnings were 11 cents per share in both periods because Yahoo bought back some of its stock during the past year in an attempt to bolster its eroding market value.
Treasury joins housing warnings
WASHINGTON » Treasury Secretary Henry Paulson called yesterday for an aggressive response to deal with an unfolding housing crisis that he said presents a significant risk to the economy.
In the administration's most detailed reaction to the steepest housing slump in 16 years, Paulson said that government and the financial industry should provide immediate help for homeowners trying to refinance current mortgages before they reset at much higher rates.
He also called for an overhaul of laws and regulations governing mortgage lending to halt abusive practices that contributed to the current crisis.
Intel profit jumps 43 percent
SAN JOSE, Calif. »
Intel Corp.
's profit leaped 43 percent in the third quarter as cost-cutting, swelling microprocessor demand and a massive restructuring helped the world's largest semiconductor company glide past Wall Street's already-bullish expectations.
The Santa Clara-based chipmaker said yesterday it earned $1.86 billion, or 31 cents per share, in the three months ended in September. That beat by a penny the average estimate of analysts surveyed by Thomson Financial, and it's 43 percent higher than the $1.3 billion, or 22 cents per share, Intel earned in the year-ago period.
Intel is profiting from robust worldwide PC sales that are driving up demand for microprocessors, which act as the brains of those computers.
BRIEF CASE
SLOW GROWTH:
Wells Fargo & Co.'s earnings grew at its slowest pace in more than six years during the third quarter, dragged down by deteriorating home loans likely to cause more trouble in the months ahead.
787 RESHUFFLE: Less than a week after announcing a delay in its new 787, Boeing Co. said yesterday it is replacing Mike Bair, the program's vice president and general manager for the past three years. Pat Shanahan, who has headed up missile defense systems at Boeing's Wichita-based military unit, will replace Bair. Bair has been named vice president of business strategy and marketing Boeing's commercial airplanes division.
NEW CAT: Apple Inc.'s next-generation operating system, Mac OS X "Leopard," will be available Oct. 26 for $129, and Apple's online store is taking pre-orders, the company said yesterday. Leopard was originally due in June.
---
[ HAWAII INC. ]
New hires / Promotions
» Allstate Financial Group has hired
Kurtis Kimura
as an exclusive financial representative. He previously served as a sterling group member with AXA Advisors and as vice president and executive investment consultant for Bankoh Investment Services. He has 21 years of experience in the financial services industry.
» Maui Land & Pineapple Co. has named Ryan Churchill as community development division president effective January 1. He replaces Robert McNatt, who will retire at the end of this year. Churchill currently serves as senior vice president of community development and has served the company since 1996.
» Turner Investment Management has named Sam Chang as security analyst in its core/value equity investment team. He previously served as a senior analyst and assistant portfolio manager with Bank of Hawaii Asset Management and as an an analyst at Investec. He has 11 years of experience in the industry.
» Kona Community Hospital has hired pediatrician and IronMan triathlete Dr. Edwin Herd as a staff physician at the Ali'i Health Center. He will provide primary care for children up to 18 years of age. He has 12 years of experience in the intensive care unit through Pediatric Inpatient and Critical Care Services.
» Shriners Hospitals for Children Honolulu has hired Lynelle Miyashiro as director of public relations. She will be responsible for the hospital's communications and community relations programs, including marketing and branding initiatives, internal and external communications, event management and volunteer services. She previously served as an account supervisor for the travel and promotions department of Stryker Weiner & Yokota Public Relations, public relations director at The Fairmont Kea Lani Maui and as event coordinator at the Hawai'i Community Foundation.
» The Embassy Suites Waikiki Beach Walk has hired Milton Lafitaga as product manager. He will be responsible for providing current product and services information to hotel operations staff, wholesale and retail agencies and other major travel partners. He previously served as operations manager for Norwegian Cruise Line America and has held other management positions at ResortQuest Hawaii, Hard Rock Cafe Honolulu and Atlantis Adventures. He has more than 12 years of experience in the hospitality industry.
» The Hawai'i Convention Center has promoted Lee Conching to associate director of sales service and support. He will oversee support to the North America regional sales in addition to local sales and client services. He has served the convention center since 2004 and has also worked at the Bishop Museum, Sheraton Hotels Hawaii, Hilton Hotels Hawaii, and the Intercontinental in Maui and Seoul, Korea.
---
BUSINESS PULSE