Study shows quake was rarity
Researchers say that the Mahukona aftershock came from a different mechanism
THIRD OF FIVE PARTS
Scientists have determined that one main earthquake, not two, shook islanders out of bed as far away as Oahu on Oct. 15, 2006.
The second big temblor was an aftershock -- but an extremely odd one, researchers said.
The 6.7-magnitude earthquake occurred at 7:07 a.m. about 24 miles beneath Kiholo Bay, just off the Kohala Coast of the Big Island. Seven minutes later a 6.0-magnitude temblor occurred about 12 miles deep off Mahukona. Several hundred smaller aftershocks followed.
With completely different geophysical mechanisms, the two events were related -- but more like fraternal twins, born minutes apart but with different features, said Patrick McGovern, geophysicist and staff scientist at the Lunar and Planetary Institute in Houston.
"It is unusual for aftershocks to have a different mechanism, but it's not unheard of," McGovern said in a telephone interview. He presented his findings in the Geophysical Research Letters journal.
In Hawaii, seismologist-geophysicists Cecily Wolfe at the University of Hawaii at Manoa and Paul Okubo of the Hawaiian Volcano Observatory have been using high-precision methods to try to get better locations of the Oct. 15, 2006, aftershocks and what caused them.
"The aftershocks really work toward determining what part of the earth did rupture," Okubo said.
Their preliminary work suggests many had similar mechanisms, and most occurred on the northwest to southeast rupture plain of the main Kiholo Bay earthquake.
But the Mahukona event was an exception -- "an oddball," Wolfe said.
SHOCK AND AFTERSHOCK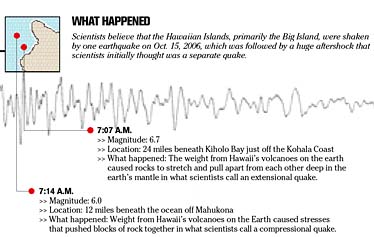 BY THE NUMBERS
30: Strong-motion seismometers operated by the U.S. Geological Survey around the state

2,800: Average number of quakes per year over the last 10 years measuring 1.3 magnitude and higher

7.9: Magnitude of devastating earthquake that shook Hawaii in 1868
"It was a different mechanism, a different fault and a different stress environment, but it was an aftershock," Okubo said, noting he had said after Oct. 15, 2006, that it was a main shock.
The weight of Hawaii's volcanoes put a huge load on the earth's lithosphere, which bends and creates stresses that cause earthquakes, with blocks of rocks sliding along fault planes.
McGovern described two main types of earthquake mechanisms: one resulting from rocks being stretched and pulled apart (called extensional) and the other where blocks of rock are pushed together (called compressional).
The Kiholo Bay earthquake was an extensional type deep in the earth's mantle, and the shallower temblor, while still in the mantle, was compressional, McGovern said.
The "tricky part," McGovern said, is the second earthquake was deeper than he expected it to be, which suggested a different process was going on than the lithospheric plate simply flexing from stresses.
"It wasn't a surprise per se, but it said to me immediately this was something having to do with the lithosphere, the strong outer layer of earth, responding to the load of volcanoes," he said.
McGovern pointed out that the lithosphere has two parts: a crustal part made up of volcanic rocks, like Hawaii's volcanoes, and a stiffer upper mantle of denser rocks that is more resistant to bending.
His modeling showed a layering effect occurred on the oceanic plate with contrasting stiffness between crustal and mantle materials producing high stress in the Mahukona quake region.
"My impression from stress modeling is the largest earthquakes still tend to be in the lower part of the lithosphere or lower mantle, which may mean you will continue to get patterns of paired earthquakes in the future," McGovern said. "But it appears from the way the stresses are distributed, the larger ones will still be deeper ones like the Kiholo quake. All the damage was done by the initial event, and not much, hardly anything, was felt in the Mahukona aftershock."
Okubo and Wolfe said McGovern's work is important because little has been done in terms of modeling Hawaii earthquakes.
"While geophysicist-seismologists are very dependent on observations and data, we're at a point where we have to let modelers take their best whacks at improving our interpretations," Okubo said.
McGovern also is trying to figure out the evolution of volcanoes from modeling.
"That zone of high stress at the top of the mantle may turn out to be sort of like a valve that controls the movement of magma rising through the mantle," he suggested.
"It may determine whether it goes up and becomes ruptured as a Hawaiian volcano or stays at the bottom of the crust and stays as underplating.
"This process has been observed seismically on islands of Hawaii," he said. "You see this extra layer of crust below Oahu quite strongly. It stays there. It doesn't cause any seismic disturbance or anything; it's just thickening, pushing up the volcano from below."
---
Scientists push for quicker data gathering in quakes
The faster scientists can calculate the location, depth and size of an earthquake, the faster they can determine if it generated a damaging tsunami.
So collecting better information more rapidly is a prime goal of federal agencies monitoring the hazards in Hawaii -- the Pacific Tsunami Warning Center, Hawaiian Volcano Observatory and U.S. Geological Survey.
All are improving and expanding instruments and communications in the state's seismic monitoring system.
The Tsunami Warning Center at Ewa Beach received federal money after the Dec. 26, 2004, Indian Ocean tsunami disaster to improve the isle seismographic network, said geophysicist Gerard Fryer.
"We're putting in more of a special kind of seismometer we need to figure out how big an earthquake is," he said, adding that the Oct. 15, 2006, earthquakes was "a spur to get that done more quickly."
The center knew within seconds where the first damaging jolt occurred that morning, and was able to get a message out in three minutes that there was no tsunami, Fryer said.
"But that was just luck," he said, explaining, "the earthquake was far enough away from key instruments that it could be recorded on scale, but close enough that it could be recorded quickly."
QUAKE DETECTORS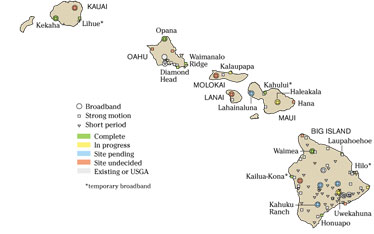 COLLECTING DATA
Scientists use different instruments to gather data on earthquakes.

» Strong-motion sensors: Placed near major faults to measure the strong motions generated by a quake

» Short period seismometers: Measure the high-frequency signals of local or regional quakes

» Broadband seismometers: Detect the low-frequency signals from distant quakes

Source: NOAA Pacific Tsunami Warning Center
Now, he said, "We're going to make sure the islands are instrumented so if (there is) any earthquake anywhere in the islands, we'll be able to respond to that quickly."
The goal is to get information out in two minutes, then eventually in 90 seconds, he said.
It is a matter of getting equipment installed and figuring out communications, Fryer said. "It's not a trivial problem. We're slowly advancing. We have tremendous and wonderful cooperation from the U.S. Geological Survey."
Observatory Director James Kauahikaua said the Kiholo Bay earthquake "certainly exposed weaknesses in our system."
The Big Island observatory has been the U.S. Geological Survey's earthquake recording unit in Hawaii since it began in 1912 with no direct support from the national seismic program, he noted.
When the USGS Advanced National Seismic System was formed a few years ago, limited funds were provided and the focus was on urban seismic hazards, he said. "Clearly, we don't qualify for that. Oct. 15 caused them to rethink that emphasis."
While not on the national earthquake map, the observatory reports progress in new instruments, computer systems and data analysis techniques.
Near real-time ShakeMaps were developed after Oct. 15, 2006, showing the intensity of shaking for emergency responders. Data was provided from 12 USGS strong-motion instruments and results of community-based "Did You Feel It?" maps.
The USGS operates 30 strong-motion instrument systems in Hawaii, but only 12 could be dialed up for data on Oct. 15, 2006, Kauahikaua said. "The low-tech ones recorded on film that had to be retrieved after the earthquake."
Since then almost all strong-motion instruments have been upgraded to send data automatically to the ShakeMap system, and more instruments are planned, he said.
But the data goes to Menlo Park, Calif., and the observatory is trying to get an Internet connection so it can get the data directly, he said.
"We get a lot of useful data after the fact," Kauahikaua said. "We like to put out a solution within five minutes after an earthquake, but it doesn't incorporate warning or strong-motion data until we're hooked up to the Internet."
The observatory plans to install some strong-motion instruments and add some broadband seismometers to its monitoring network, said Paul Okubo, observatory geophysicist-seismologist and coordinator of the Advanced National Seismic System project in Hawaii.
"Everybody needs to record earthquakes better, but each has different targets for monitoring," he said. The national project is intended to coordinate and leverage resources to avoid duplication, he said.
"What definitely happened, after Oct. 15 the USGS became more aware of the need to do things for earthquake monitoring in Hawaii."
An analysis was done to identify performance gaps, and now it is a matter of lining up support to carry out remedies, Okubo said, citing needs from "Internet connectivity to instruments in the ground to data processing systems and, most importantly, people (staffing)."
The Tsunami Warning Center is installing combination broadband and strong-motion seismic stations on all islands "to help locate earthquakes more quickly and more accurately and get the magnitudes nailed down better," said geophysicist Brian Shiro.
The new instruments record the earth's motion from "short-period shaking to long-period stuff you might not even feel," he said.
Scientists worry more about shallower Hawaii earthquakes, occurring above a depth of 12 feet, because deep ones are unlikely to cause a damaging tsunami, he said. But tsunami messages "are pretty much based on magnitude," he added.