Singing the praises
Cambodian schoolchildren offer a hero's welcome to two Kaimuki businesswomen who funded school
STORY SUMMARY »
Two Kaimuki small-business owners worked an extra hour a day for a year to save money to fund a school for Cambodian children who were still living in the shadow of the Killing Fields.
Though Neva Rego and Betty Grierson, owners of the Bel Canto School of Singing, don't fit the stereotypical profile of Hawaii's well-heeled philanthropist, they were so inspired by the unfortunate children of Cambodia that they used hard work to overcome their lack of resources.
The women, along with other Hawaii donors, were recently honored by King Father Norodom Sihanouk, who threw a palace lunch in their honor and sent them home with silver.
However, the small-business owners said that the greatest rewards came when the children who inspired their gift gave them a hero's welcome.
---
FULL STORY »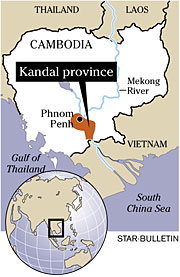 PHNOM PENH, Cambodia » Two Kaimuki small-business owners showed Cambodia the meaning of aloha on a recent trip to open a secondary school that they funded for more than 300 underprivileged children in Kandal province.
Neva Rego and Betty Grierson, owners of the Bel Canto School of Singing, worked an extra hour a day for a year to raise $20,000 to build a school in a remote Cambodian village where the children did not have access to an education. The women were moved to build a school for Cambodian children when their voice student, Dr. Kathleen Kozak, began singing the praises of American Assistance for Cambodia program. Kozak invited the business owners to the opening of the school that she funded last year for the nonprofit, founded by retired journalist and Holocaust survivor Bernie Krisher.
It's ironic that music is the stuff Rego and Grierson are using to help rebuild Cambodia and lead the country's children out of the shadow of the Killing Fields. In the years after infamous communist leader Pol Pot killed 2 million Khmer people in the 1975-79 genocide, Cambodia has struggled to rebuild without the aid of all of the trainers, educators, artists and entertainers who were among the first to be executed. Last year, only one out of every two Cambodia children completed primary school, but Krisher hopes to change that with Khmer schools that he has built largely with U.S. and Japanese aid.
"We've got 382 schools and more coming in every day," Krisher said from Phnom Penh on a recent trip to open several high-profile development projects in Cambodia, including a secondary school for the brightest Khmer children and an orphanage for children who have lost either one or both parents to HIV or AIDS.
Rego and Grierson said they were touched by the children they met in Cambodia during the opening of the Kozak Ohana School in 2006 and wanted to find a way to make their own difference.
"We didn't think that we had enough money to open a school, but when we met the children, we decided that we had to make it happen," Rego said, while surrounded by the bright, brown-eyed students at her simple Kandal province school and from the nearby village.
Many other Hawaii people have opened their hearts and their checkbooks to Krisher's cause, shoring up the health, education and, eventually, economic prospects of Khmer children so that the emerging country can meet its development goals. On Krisher's most recent fundraising trip to Hawaii, donors pledged more than $78,000 to bring the total of Hawaii-funded schools in Cambodia to 16. However, Rego and Grierson don't fit the stereotypical profile of the wealthy philanthropists that often fund such projects.
Still, Rego and Grierson said that they figured if the children of Cambodia could find a way to survive each day in a land short on money, resources and access to the basics like adequate food, shelter and even clean water, than they could manage to find a way to fund a school.
"These children are so poor that all they know about is staying alive from one day to the next," Grierson said. "We are so concerned about things like paying insurance on our cars, but these kids just want to stay alive."
While they were short of dollars, the two business owners were determined. By working harder and saving more, they were able to make a project happen that at first seemed impossible.
"We just worked longer hours," Grierson said, adding that the pair named the school Bel Canto after the Hawaii business that made it possible.
The businesswomen said they also were inspired by Kozak's example from the year earlier. The young doctor funded the opening of the school with faith, dogged determination and lots of work hours.
"I didn't have the funds when I committed to building a school, but I found a way to do it," Kozak said.
A fortuitously timed tax refund helped bolster Kozak's savings so that she could open her school last year. She returned to Cambodia recently to celebrate the opening of the Bel Canto School, as well as the opening of the Bright Future Kids School, another project that she helped fund.
"It was amazing to be at the opening of the Bright Future Kids School," Kozak said. "One year ago, we held a groundbreaking. Now, there are several buildings that will be there for perpetuity."
The Bel Canto School and others like it will serve as feeder schools for the Bright Future Kids School.
"The sky is the limit at the Bright Future Kids School," Krisher said. "It will provide secondary education and a chance for a bright future for the smartest children from Cambodia's most remote villages. Without this school, these children would have had to go back to farming after they finished elementary school."
Building the Bel Canto School was just another adventure in a lifetime of many for the two business partners and longtime friends.
Rego, a native of Kaimuki, and Grierson, formerly of Canada, met in Italy while studying opera. Rego returned home to Hawaii in the early 1980s and soon after opened the Bel Canto School of Singing so that she could share her love of music and expertise with others. Over the years, Rego has coached many stars, including the Brothers Cazimero, Makaha Sons, Shari Lynn, Jimmy Borges and Danny Couch. She also was recognized by the Hawaii Legislature last year for her contributions to the state, which have included voice coaching for 16 Miss Hawaiis and two Miss Americas.
Gov. Linda Lingle herself honored Rego last week with a commendation letter acknowledging the opening of the Bel Canto School in Cambodia and thanking her for her work as a goodwill ambassador on behalf of Hawaii.
Grierson, who went home to Canada for a time before joining Rego, helped Rego expand her school and her dreams.
"In our own small remote way, we are helping Cambodia to rise up," Grierson said.
While the Bel Canto School in Kandal will be most concerned about teaching the students basic subjects like speaking English, eventually the Hawaii philanthropists might try to teach them to sing, too.
"If it goes well, eventually we'd like to hire a music teacher," said Rego, who has been honored with an "excellence in education" award from the National Society of Arts.
While the two business owners have earned many accolades in Hawaii, the most touching praise that they received has come from King Father Norodom Sihanouk of Cambodia.
King Father hosted a lunch for the American and Japanese school donors. The women also were royally greeted from the students of the school they funded.
"They gave us so much love," Rego said, with tears in her eyes as she recalled the way that she felt to see all of the children at their school lined up to greet her on opening day.
Even Grierson, the least sentimental of the pair, said she cried at the event.
"There was plenty of waterworks," Rego said.
But there was also much joy, she said. While career choices kept the women from marrying and having families, they said that they now count hundreds of Cambodian schoolchildren among their ohana.
"Ever since we made the decision to fund this school, I've felt so much joy. These children have become our kids," Rego said. "I've learned that doing well for others is what true happiness is all about."