| | |
| --- | --- |
| | Newswatch |
---
Ditch Sam's burgers, state urges
The state Department of Health is advising people not to eat American Chef's Selection Angus Beef Patties purchased from Sam's Club because of possible E. coli contamination.
Cargill Inc., the Minnesota-based company that distributes the beef patties to Sam's Club stores nationwide, is recalling the product after four Minnesota children who ate it developed E. coli illness last month.
The ground beef is sold in 6-pound boxes that contain 18 patties. The package has a case code 7703100. They were produced in August and have "Used By" dates of Feb. 5, 6, 12 and 13, 2008.
The Health Department urges people who have this product in their freezers to either return it to Sam's Club or throw it away.
---
SWIMMERS TAKE A BREAK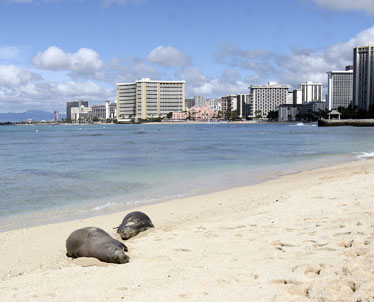 ---
UH-bred anthurium snags victory
An anthurium bred by the University of Hawaii won first place last month in a national competition, according to a UH news release.
"Tropic Sunrise" was one of seven entries that won a blue ribbon in the "Other Cut Flowers" category at the Society of American Florists' 2007 Outstanding Varieties Competition held Sept. 26-29 in Palm Springs, Fla. Forty-nine flowers were entered in the category.
The anthurium is a creation of the College of Tropical Agriculture and Human Resources at UH-Manoa and was entered by local anthurium grower Green Point Nursery.
The multicolored anthurium, a cross between two anthuriums -- Anuenue and Soga Orange Obake, another anthurium connected to the CTAHR -- can grow more than 12 inches long and last 32 days after cutting.
Nonprofits can join City Lights
Five nonprofit organizations will be allowed to erect displays on the City Hall grounds during the Honolulu City Lights exhibition in December.
Oct. 24 is the deadline to submit applications to the Neighborhood Commission Office at Honolulu Hale. The winning bids will be determined by a lottery Nov. 1.
The city set aside spaces for private exhibits and set up a lottery to resolve a challenge made after a previous mayor permitted a church to display a Nativity scene amid the annual public holiday show.
Applicants must qualify as nonprofit organizations under state law and the Internal Revenue Service code.
For information, call Joan Manke, 527-5749.
Storytellers to tell tales of ghosts
The Japanese Cultural Center of Hawaii is sponsoring its second annual "Kwaidan Kalabash: Ghost Stories in Hawaii and Beyond" from 6 to 9 p.m. Oct. 21 on the center's fifth floor.
"Kwai" means "mysterious" or "scary" and "dan" means "story" in Japanese.
Storytellers Alton Chung, Jeff Gere and Lopaka Kapanui will perform in the spirit of Halloween and JCCH's latest exhibition, "Obake Odyssey," which focuses on the "ghastly world of obake (Japanese ghosts)" and other supernatural tales, the center said in a news release.
Included will be a haunting performance by artistic director Lori Ohtani and her group, Tangentz -- which specializes in "butoh," a modern style of Japanese dance. It is recommended that children in attendance be ages 13 and up.
The "Obake Odyssey" will be on exhibit until Oct. 31, Tuesday through Saturday, from 10 a.m. to 4 p.m. Admission is free.
Other sponsors include Ben Franklin Crafts and the Nippon Golden Network.
Further information is available at info@jcch.com; by fax, 944-1123; by phone, 945-7633; or online, www.jcch.com.
| | |
| --- | --- |
| | Police, Fire, Courts |
---
LEEWARD OAHU
Tension in tent leads to stabbing
Police arrested a 29-year-old woman yesterday who allegedly stabbed a man she shares a tent with on a Waianae beach.
Police said that at about 11:35 a.m. yesterday the suspect and the 25-year-old man were arguing in their tent. Police said when the man wanted to leave to let tempers cool, that further upset the suspect, who hit him with a pipe, police said.
The man then grabbed some belongings, dropping a knife to the floor of the tent, police said. The woman allegedly grabbed the knife and stabbed the man in his right thigh. The woman fled and asked someone to call police. She later was arrested on suspicion of second-degree assault.
WEST OAHU
Man allegedly threatens mom
Authorities charged a 21-year-old Waipahu man yesterday who allegedly threatened his mother at her place of employment in Aiea.
Michael A. Johnson was arrested Thursday for allegedly placing a call Wednesday and leaving a threatening message for his mother at her workplace.
Police said Johnson said he was in the parking lot outside with a knife, a gun and a bomb and that he was going to blow up her workplace.
Responding officers did not find any indication Johnson had been there, but he was arrested at his home.
He was charged yesterday on first-degree terroristic threatening and violation of a protective order. Johnson's bail was set at $1,500.
City IDs body found in home
The Honolulu Medical Examiner's office identified yesterday the woman who was found dead Oct. 6 with a plastic bag over her head as Ernestine Ramos, 54, of Waianae.
Police said neighbors at Makaha Beach Cabanas, 84-965 Farrington Highway, noticed a foul odor coming from Ramos' condo and notified the resident manager, who checked her unit and found her body and a black plastic bag over her head.
Before that, Ramos was last seen Oct. 2, police said.
Police have opened an unattended-death case in connection with Ramos' death and declined further comment.
EAST OAHU
Kaimuki robbery nets more arrests
Police arrested two boys, ages 16 and 17, yesterday for investigation of first-degree robbery.
Police said three boys, two 17-year-olds and a 16-year-old, allegedly used physical force to take property from a 16-year-old boy last month in Kaimuki. Another 17-year-old boy was arrested Oct. 1.
Police said one of the suspects was armed with a pipe.
The robbery occurred at about 9:45 p.m. Sept. 21.
Forged check buys a ride in patrol car
Police arrested a couple for allegedly trying to use a forged check.
At about 2:30 p.m. yesterday a 38-year-old man and 30-year-old woman tried to open an account with a forged check at the Waialae-Kahala branch of Bank of Hawaii at 4634 Kilauea Ave.
Police said the bank contacted the account holder, who said no check was issued to the suspects.
Both suspects were arrested on suspicion of second-degree forgery, and the man also was booked on suspicion of unauthorized control of personal information.
NEIGHBOR ISLANDS
Crash victim was Kailua-Kona man
Big Island police identified a 22-year-old Kailua-Kona man who died Wednesday from injuries he suffered in a car crash Oct. 5 as Matthew Rogers.
Rogers was a passenger in a Toyota sedan that ran off Queen Kaahumanu Highway near the 81-mile marker.
He was thrown from the car in the 2 a.m. accident. Rogers was not wearing a seat belt.
The driver, Ryan Depoy, 22, was arrested the night of the crash for allegedly driving under the influence of an intoxicant.
Depoy was taken to the Queen's Medical Center for treatment of his injuries.
Police suspect speed and alcohol were factors in the crash.