---
FAST FACTS HAWAII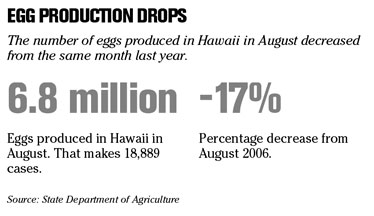 ---
HAWAII
Workers' comp costs cut
The state has approved a greater-than-requested reduction of 19.3 percent in the cost of workers' compensation insurance for Hawaii's businesses.
The National Council on Compensation Insurance initially filed for a 16.8 percent decrease in loss costs -- the largest component of insurance premiums.
Hawaii Insurance Commissioner J.P. Schmidt said that after discussions with the NCCI, the state decided on the larger decrease.
The reduction, which will become effective Jan. 1, is based on the lower number of claims filed by local employers in 2005, the last year complete data is available. Despite the approved reduction, insurance companies are not required to reduce premiums.
NATION
Qualcomm duels with attorneys
SAN DIEGO » Chipmaker
Qualcomm Inc.
dueled yesterday in federal court with its hired attorneys over who shoulders the blame for what a judge called "gross misconduct on a massive scale" at a past trial.
U.S. Magistrate Judge Barbara Major is considering sanctions against 19 attorneys who represented Qualcomm in a patent lawsuit the cell phone chipmaker filed against rival Broadcom Corp.
The judge said she was struggling to understand how Qualcomm and its lawyers committed "the fundamental and monumental error" of failing to share more than 200,000 pages of documents with Broadcom until after trial.
Prempro award cut by $100M
RENO, Nev. » A Nevada jury ordered
Wyeth
to pay $35 million in damages to three women who sued over the company's menopause drugs, almost $100 million less than the panel first awarded in the case.
Judge Robert Perry in Reno instructed jurors to revisit the more than $43 million in compensatory damages they initially awarded to each of the women who said they took Wyeth's hormone- replacement drugs and developed breast cancer, after learning some jurors thought they were supposed to include punitive damages in the total. Wyeth's lawyers sought to have the verdict thrown out.
WORLD
Virgin makes offer to U.K. lender
LONDON » A consortium headed by billionaire Richard Branson's
Virgin Group Ltd.
is offering to rescue
Northern Rock PLC
by proposing a plan yesterday to inject cash into the struggling mortgage lender and rebrand it Virgin Money.
Under the proposal, put forward by a consortium of Asian and U.S. investors led by Virgin, Northern Rock would be renamed Virgen Money in return for equity.
"It is the consortium's intention to maintain Northern Rock's listing, to retain the business in its entirety, to add to it and to grow it in the future; rather than seeking a break up or partial solution," the consortium said.
Virgin's offer is the first on the table for Northern Rock following speculation about several potential bids from private equity firms.
---
BUSINESS PULSE