HILIFE
Crazy for the '80s
AS "Acid Wash Wednesdays" approaches its second anniversary in February, the weekly '80s experience at NextDoor continues to attract a steady stream of satisfied customers.
'Acid Wash Wednesdays'
When: 9 p.m. to 2 a.m. Wednesdays at NextDoor

Cost: 21 and over; no cover

Call: 548-6398
In search of liquid refreshment? The bar offers $3 drafts and $3 Alize you-call-its every Wednesday.
Feel like dressing up? Go ahead.
Mesh hair ties, neon tank tops and mullet wigs make regular appearances at "Acid Wash." Those Members Only jackets, slap bracelets and Z. Cavaricci pants in your closet will fit right in -- as long as you can fit into them!
But for most of the 300-plus people who show up each week, the music played by resident DJs Vegas Mike, G-Spot, Quicksilva and Nocturna is the main draw.
Dancing starts shortly after Nocturna opens the night at 9 p.m. each week, and doesn't stop until NextDoor turns on its "ugly lights" and kicks everyone out at 2 a.m.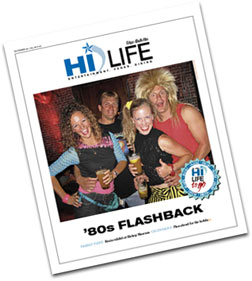 "WEDNESDAY NIGHT downtown was a (damn) ghost town" at the beginning, said Mike "DJ Vegas Mike" Licata, who also serves as NextDoor's operations manager when he's not manipulating the decks. "At that point, we were really open two nights a week ... and we were trying to expand."
When "Acid Wash" launched in early 2006, Licata found himself playing to a sparse crowd, although many who were there at the start continue to show up on a regular basis. Word of mouth promotion and relentless flier distribution have been the keys to growth for the party, he said.
According to Licata, there were two nights in 2007 that really helped build a following: An "'80s Prom" theme party on Valentine's Day and a special guest DJ set by the Smiths' Andy Rourke on May 9.
"From that point on, every Wednesday has been packed," he said. "I love the fact that people have caught on, because we're doing the same thing we've always done.
"At first, we were playing for 25 people. Now we're doing it for 350."
In addition to the Wednesday weekly, NextDoor now hosts an "Acid Wash" party every third Saturday at the club. Oct. 20 will feature a homecoming theme, with everyone not dressed in appropriate attire charged $15 at the door.
"Hey, if you dress up, it's free," Licata explained. "It's not so much a cover charge as it's a penalty."
Despite its success, "Acid Wash" wasn't the first (or last) in Honolulu to embrace an '80s theme.
These days, Justin Cruz spends his evenings in front of a camera as weather anchor at KHON2. But for five years, from 2000 to 2005, he pushed "The '80s and More" as programming director at KQMQ-FM (Disclosure: This reporter worked on the air with Cruz at KQMQ from 2000 to 2003). Local residents responded favorably to the format almost immediately.
"The '80s were just one of the best decades of music, period," he said. "I'm not surprised the music is still popular today. ... I understand the appeal."
Chaka Khan, Stevie B. and Sweet Sensation all got regular airplay, and Cruz saw many of the station's fans in person during events at Kincaid's, Rumours Nightclub and the old Blue Tropix. KQMQ also helped promote Honolulu concerts by the Jets, Journey, Prince and the Romantics during his tenure.
"When the '80s came around the first time, the club scene exploded," said Cruz. "Now, I think people are identifying with that era along with their high school and college years when they go out to hear that kind of music."
THE NOCTURNAL Sound Krew's Steve "DJ Eskae" Kanemoto notices the same thing whenever he spins at "Acid Wash," even though he's too young to have partied at places like Cilly's or the Point After.
Born in 1979, Kanemoto grew up listening to music on an AM radio at home. KSSK got way more play than any other station in his household.
"I didn't listen to I-94 until my freshman year of high school," he said with a laugh. "But '80s music transcends. ... You don't have to necessarily be from that time to appreciate it."
Kanemoto, along with Jami "DJ Jami" Ablan, are considered the fifth resident DJs at "Acid Wash," joining the lineup on a semiregular basis back in May. While he spins at mainstream parties on the weekends, it's "Acid Wash" that more often than not provides the most gratification of all of his gigs.
"It's always a treat to have somewhere to play where people are just looking forward to being out," he said. "Most people get to a certain age where they think they're done with the club stuff, but this party brought those people back.
"It's kind of refreshing to have a weekday party where you know everybody is coming because they love the party, even if they have to work the next morning."